Tyson Foods has voluntarily recalled approximately 30,000 pounds of frozen, fully cooked chicken "Fun Nuggets."
The recall includes Tyson Brand fully cooked "Fun Nuggets" sold to retailers in 29-ounce packages.
"A limited number of consumers have reported they found small, pliable metal pieces in the product, and out of an abundance of caution, the company is recalling this product," Tyson Foods stated Saturday.
Tyson recalls tens of thousands of pounds of dinosaur-shaped chicken nuggets https://t.co/lBq1eZLyrp

— TheBlaze (@theblaze) November 5, 2023
From Tyson Foods:
The product was produced at one location on September 5, 2023. Impacted products bear the product codes 2483BRV02 07, 2483BRV02 08, 2483BRV02 09, or 2483BRV02 10, establishment code P7211, with a best if used by date of September 4, 2024. Product cases may be identified by code 048153-6910, 10000048153.

The following product is impacted: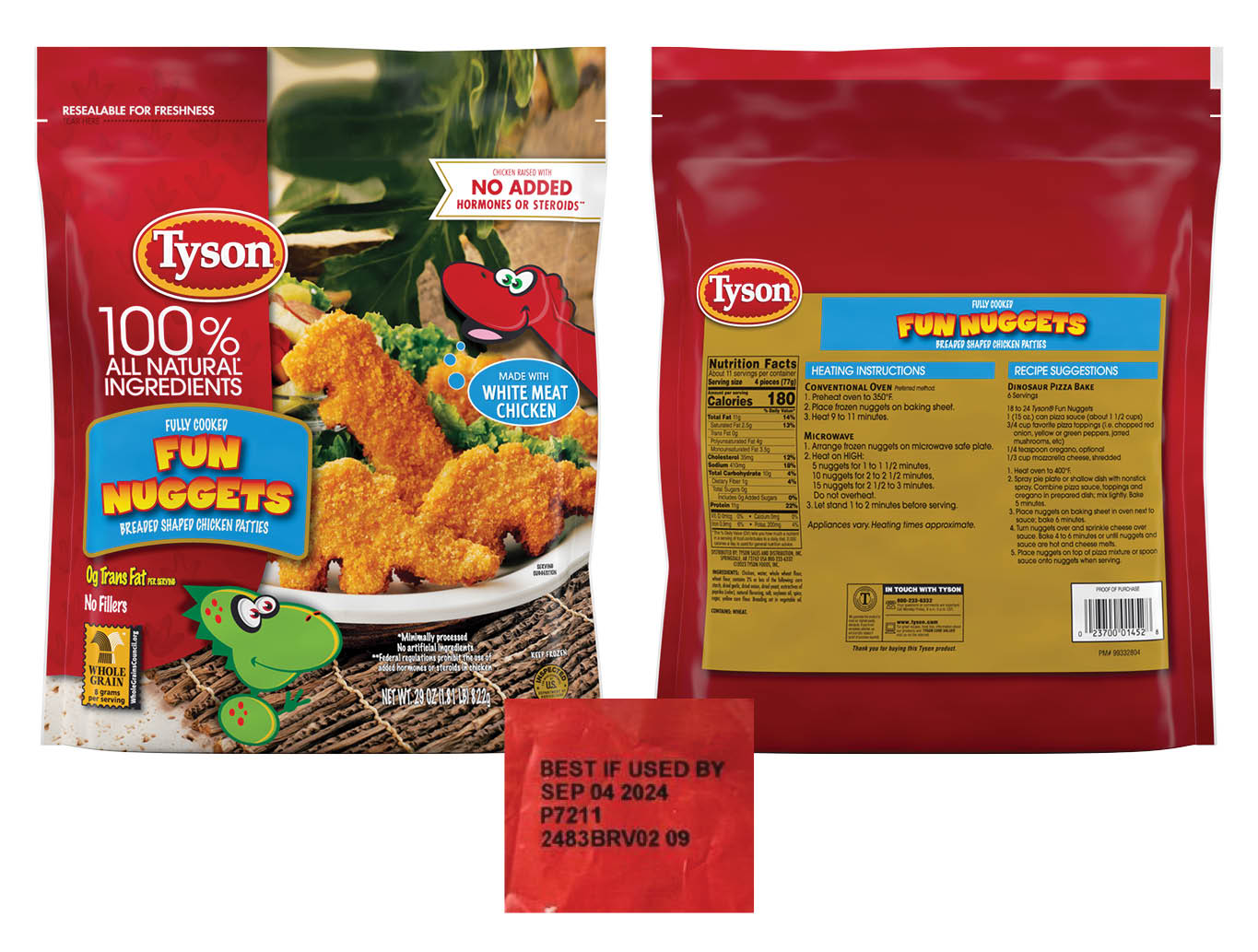 *Image from Tyson Foods*
Tyson Foods is recalling nearly 30,000 pounds of its dinosaur-shaped chicken nuggets after some consumers said they found small metal pieces in them, federal officials said. https://t.co/5kL4wXWXxz

— The New York Times (@nytimes) November 5, 2023
The New York Times reports:
On its website, the company said it was voluntarily recalling the product "out of an abundance of caution." It added that no other products were affected.

The products were shipped to distributors in Alabama, California, Illinois, Kentucky, Michigan, Ohio, Tennessee, Virginia and Wisconsin, according to the Food Safety and Inspection Service statement.

Tyson said the problem was discovered after it received complaints from consumers who said they found small metal pieces in the product, the federal agency said.

There was one report of a "minor oral injury" associated with the consumption of the product but no additional reports of injury or illness, officials said.

"Anyone concerned about an injury or illness should contact a health care provider," the federal statement said.

The Food Safety and Inspection Service urged consumers not to eat the nuggets and advised that any product left in the freezer "should be thrown away or returned to the place of purchase."

This is not the first recall involving Tyson chicken products. In 2019, the company recalled 69,093 pounds of frozen chicken strips after two people reported finding pieces of metal in the product, the Department of Agriculture said at the time.