Donald Trump on Sunday confirmed he would be skipping the GOP Primary debates due to his high polling numbers.
"New CBS POLL, just out, has me leading the field by "legendary" numbers. TRUMP 62%, 46 Points above DeSanctimonious (who is crashing like an ailing bird!), Ramaswamy 7%, Pence 5%, Scott 3%, Haley 2%, Sloppy Chris Christie 2%, "Aida" Hutchinson 1%. The public knows who I am & what a successful Presidency I had, with Energy Independence, Strong Borders & Military, Biggest EVER Tax & Regulation Cuts, No Inflation, Strongest Economy in History, & much more. I WILL THEREFORE NOT BE DOING THE DEBATES!" Trump posted on Truth Social.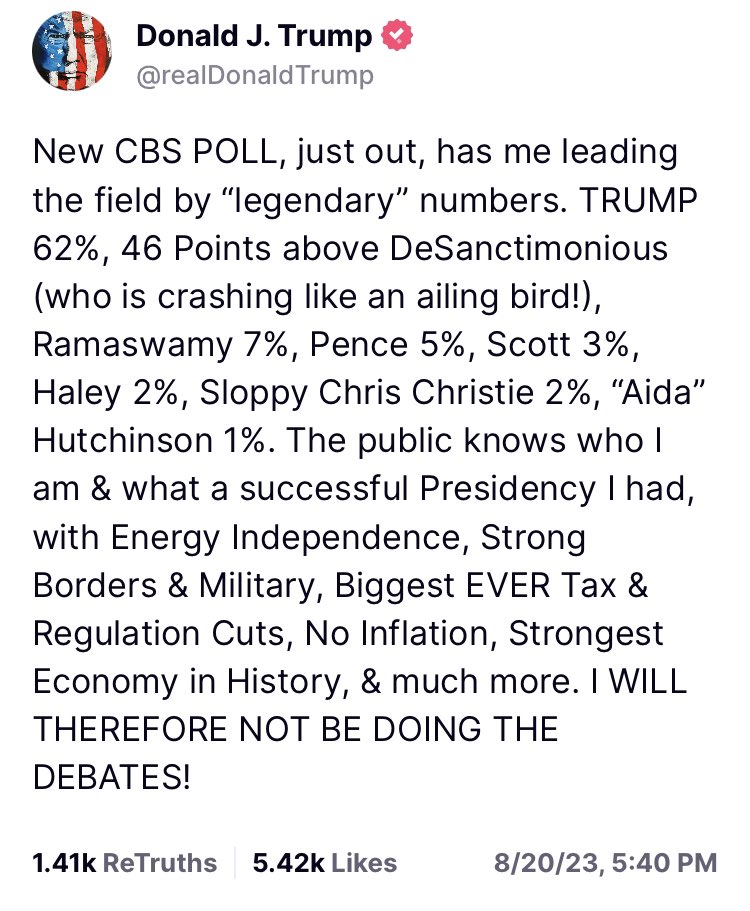 Many social media users speculated if that means Trump will skip all the primary debates.
Trump confirms he won't be doing any debates. (Plural.) pic.twitter.com/13lpybHPmK

— Breaking911 (@Breaking911) August 20, 2023
AP reports:
Former President Donald Trump confirmed Sunday that he will be skipping Wednesday's first Republican presidential primary debate — and others as well.

"The public knows who I am & what a successful Presidency I had," Trump wrote on his social media site. "I WILL THEREFORE NOT BE DOING THE DEBATES!" His spokesman did not immediately clarify whether he plans to boycott every primary debate or just those that have currently been scheduled.

The former president and early GOP frontrunner had said for months that he saw little upside in joining his GOP rivals on stage when they gather for the first time in Milwaukee Wednesday, given his commanding lead in the race. And he had made clear to those he had spoken to in recent days that his opinion had not changed.

"Why would I allow people at 1 or 2% and 0% to be hitting me with questions all night?" he said in an interview in June with Fox News host Bret Baier, who will be serving as a moderator. Trump has also repeatedly criticized Fox, the host of the Aug. 23 primetime event, insisting it is a "hostile network" that he believes will not treat him fairly.
During Wednesday's GOP primary debate, Trump will interview with Tucker Carlson.
WLTReport noted:
Trump on Thursday night made it clear he's not going to be on the debate stage on August 23rd.

In a Truth Social post, the 45th president wrote "Many people are asking whether or not I will be doing the DEBATES? ALL AMERICANS have been clamoring for a President of extremely High Intelligence."

He went on to write "As everyone is aware, my Poll numbers, over a "wonderful" field of Republican candidates, are extraordinary. In fact, I am leading the runner-up, whoever that may now be, by more than 50 Points. Reagan didn't do it, and neither did others."

So now that Trump is free on the 23rd, what will he do instead?

Several insiders from inside Trump's camp have revealed that Trump and Tucker Carlson are in talks to do an interview on the same day the RNC will have their debate on Fox News.