"The 8th U.S. Circuit Court of Appeals in St. Louis blocked an Iowa School District from enacting a policy that threatens to suspend students for not respecting gender pronouns of their fellow classmates," WLTReport reports.
"The Eighth Circuit remanded the case to the Court with directions to grant a preliminary injunction against enforcement of the portion of defendants' policy that prohibits an intentional or persistent refusal 'to respect a student's gender identity,'" the order stated.
In other words, school districts are not allowed to ban 'merely offensive' speech on gender identity, Just the News founder John Solomon noted.
Schools cannot ban 'merely offensive' speech on gender identity, appeals court rules | Just The News https://t.co/zcsbPpyl7z

— John Solomon (@jsolomonReports) October 5, 2023
"A school district cannot avoid the strictures of the First Amendment simply by defining certain speech as 'bullying' or 'harassment'" the three-judge panel ruled.
The court also cited the policy's "vagueness."
BREAKING: The 8th Circuit Court of Appeals orders a preliminary injunction of a policy requiring students and school staff "to respect a student's gender identity," explaining: "A school district cannot avoid the strictures of the First Amendment simply by defining certain speech… pic.twitter.com/MLOoVE9oP0

— Laura Powell (@LauraPowellEsq) September 29, 2023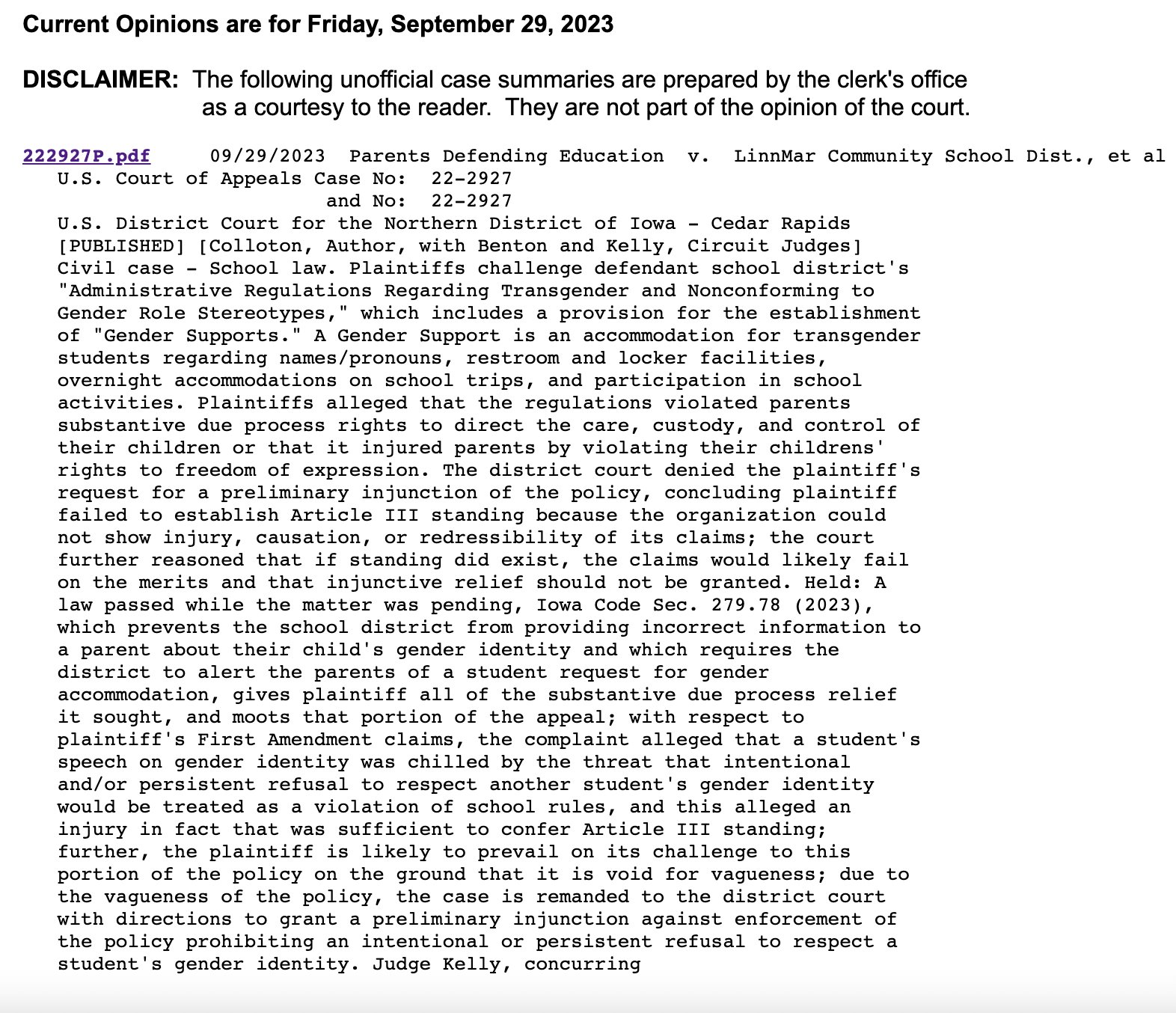 Just the News reports:
A similar group of court watchers is asking the Boston-based 1st Circuit – which oversees Maine, Massachusetts, New Hampshire and Rhode Island – to also overturn a lower court's ruling that students do not have the right to assert the existence of the sexual binary while on school grounds.

The flurry of court activity related to gender identity in school continued Tuesday in Wisconsin.

A state court struck down the Kettle Moraine School District's policy of hiding gender transitions as an intrusion on parents' rights to control "medical and healthcare" decisions about their children.

The Supreme Court enshrined broad speech rights for public school students in 1969 by overturning the 8th Circuit's ruling two years earlier against the Tinker siblings' right to wear black armbands to Des Moines schools to protest the Vietnam War.
Appeals Court Strikes Down Forced 'Respect' of Gender Pronouns in Schools: 1A Not Undone By 'Defining Speech as Bullying'https://t.co/wCUMxCcG6C

— Winston (@19Goldstein84) October 6, 2023
Education Week added:
The 7,500-student Linn-Mar district adopted its broad policy on transgender and gender non-conforming students in April 2022. The policy included provisions to develop gender support plans for transgender students and keep gender identities confidential, even from parents, unless authorized by the students.

The policy also includes a section on "names and pronouns," which says that any "intentional and/or persistent refusal by staff or students to respect a student's gender identity is a violation of school board policies," including its anti-bullying and anti-harassment policies.

Parents Defending Education, a national group that has figured prominently in debates over transgender policies in schools, sued the district in federal district court, along with several anonymous parents in the district, alleging violations of parents' 14th Amendment substantive due process rights to direct the upbringing of their children and students First Amendment free speech rights.

The district court declined to issue an injunction against the policy, and while that ruling was pending appeal, Iowa passed a law, effective July 1 this year, that bars school districts from providing false or misleading information to parents about a student's transgender status or intention to transition to a gender different from what is on the student's birth certificate.

The 8th Circuit panel ruled that the plaintiffs' claims against the policy's gender support plan and confidentiality provisions were moot because those provisions were superseded by the new state law.
Read the full 18-page ruling HERE.