A federal judge on Wednesday temporarily blocked New Mexico Gov. Michelle Lujan Grisham's authoritarian "emergency public health order" to suspend 2nd amendment rights.
U.S. District Court Judge David Urias, a Joe Biden appointee, said her order to suspend conceal and open firearm carry rights defied a Supreme Court ruling that states Americans have the right to self-defense outside their home, Reuters reports.
🚨 #BREAKING: A federal judge in Albuquerque has BLOCKED New Mexico Governor Michelle Lujan Grisham's effective suspension of the 2nd Amendment in the state.

This comes after both the NM Attorney General AND other *democrat* constitutional officers announced they'd be refusing… pic.twitter.com/tN5Ndzx9eV

— Nick Sortor (@nicksortor) September 13, 2023
"Today I issued a 30-day ban on the open & concealed carrying of guns in Albuquerque and Bernalillo County. Gun violence is killing between 2 and 3 children every month in NM – every single one of these deaths is unconscionable and they must stop," Grisham stated Friday.
Gov. Michelle Lujan Grisham stated in a press release:
The recent shooting deaths of a thirteen-year-old girl on July 28, a five-year-old girl on August 14, and an eleven-year-old boy on September 6, as well as two mass shootings this year spurred the governor to declare gun violence a public health emergency on Thursday. Today's public health order includes directives to curb the gun violence and drug abuse that the Governor has declared to be public health emergencies.

"As I said yesterday, the time for standard measures has passed," said Gov. Michelle Lujan Grisham. "And when New Mexicans are afraid to be in crowds, to take their kids to school, to leave a baseball game – when their very right to exist is threatened by the prospect of violence at every turn – something is very wrong."

During a substantive and earnest conversation on Friday with public safety officials including District Attorney Sam Bregman, Bernalillo County Sheriff John Allen, Albuquerque Police Chief Harold Medina, former State Police Chief Pete Kassetas, and state law enforcement leadership, the governor expanded on her plans to drastically reduce the number of violent incidents and fentanyl-related deaths in New Mexico.

The governor also on Friday signed an executive order declaring illegal drugs a public health emergency.

The action plan includes a suspension of open and concealed carry laws in Bernalillo County, temporarily prohibiting the carrying of guns on public property with certain exceptions. Exceptions include for licensed security guards and law enforcement officers. Citizens with permits to carry firearms are free to possess their weapons on private property (such as at a gun range or gun store), provided they transport the firearm in a locked box, use a trigger lock, or some other mechanism that renders the gun incapable of being fired.
Grisham has faced blowback from both sides of the political aisle for her disregard for the U.S. and New Mexico Constitutions and her constituents' inalienable rights.
Bernalillo County Sheriff John Allen issued a statement in response to the order:
UPDATE: Bernalillo County Sheriff Responds to Tyrannical New Mexico Governor's Order
"Today, Governor Michelle Lujan Grisham issued an emergency order temporarily suspending open and concealed carry laws in Albuquerque and throughout Bernalillo County for the next 30 days. This move has been positioned as a response to the alarming and tragic rise in gun violence, particularly the heart-wrenching death of an 11-year-old boy this past week. First and foremost, every lost life is a tragedy, and the well-being of our community is of paramount concern to the Bernalillo County Sheriff's Office. We share in the collective grief and urgency to address this issue," he said.
"However, as the elected Sheriff, I have reservations regarding this order. While I understand and appreciate the urgency, the temporary ban challenges the foundation of our Constitution, which I swore an oath to uphold. I am wary of placing my deputies in positions that could lead to civil liability conflicts, as well as the potential risks posed by prohibiting law-abiding citizens from their constitutional right to self-defense," he continued.
Republican state lawmakers called for Grisham's impeachment following her unlawful order.
State representatives Stefani Lord (R-Sandia Park) and John Block (R-Alamogordo) called for Grisham's impeachment for violating her oath to uphold the people's inalienable rights.
State Lawmakers Call For Governor's Impeachment Following "Emergency" Order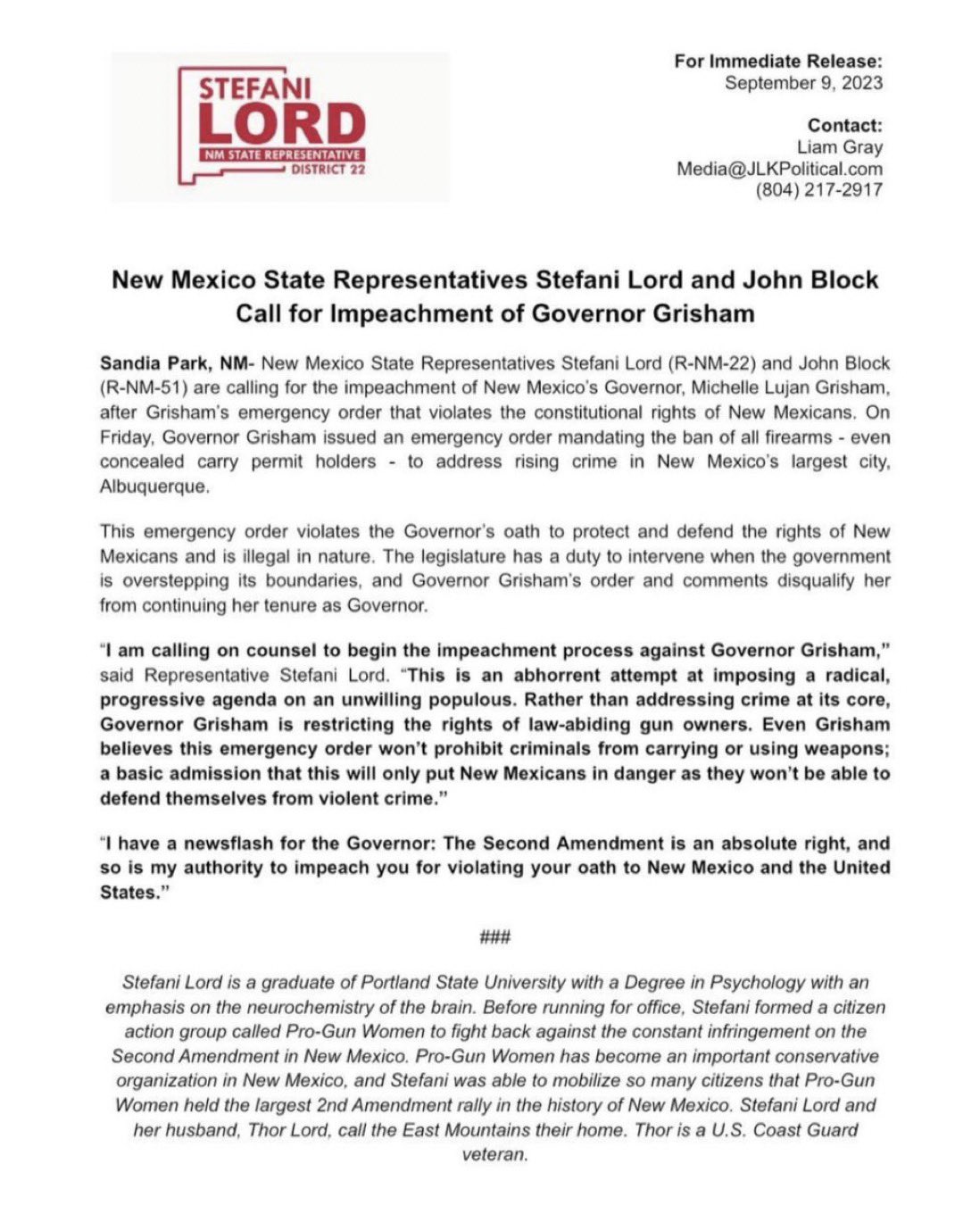 New Mexico Attorney General Raul Torrez, a Democrat, refused to defend Grisham.
"I am writing to inform you that my office will not defend your administration in the above referenced cases challenging the Public Health Emergency Order Imposing Temporary Firearm Restrictions, Drug Monitoring and Other Public Safety Measures (the Emergency Order) issued by the Secretary of Health on September 8, 2023," Torrez wrote in a letter.
This is huge. Raul Torres, the New Mexico Attorney General (D), will not defend the Governor or her administration against suits filed in response to her "health emergency", declaring her order will "not pass constitutional muster". #Impeachment #ImpeachMLG #impeachGrisham… pic.twitter.com/89QJo4pSFA

— Reeve Swainston, Esq. (@ReeveSwainston) September 12, 2023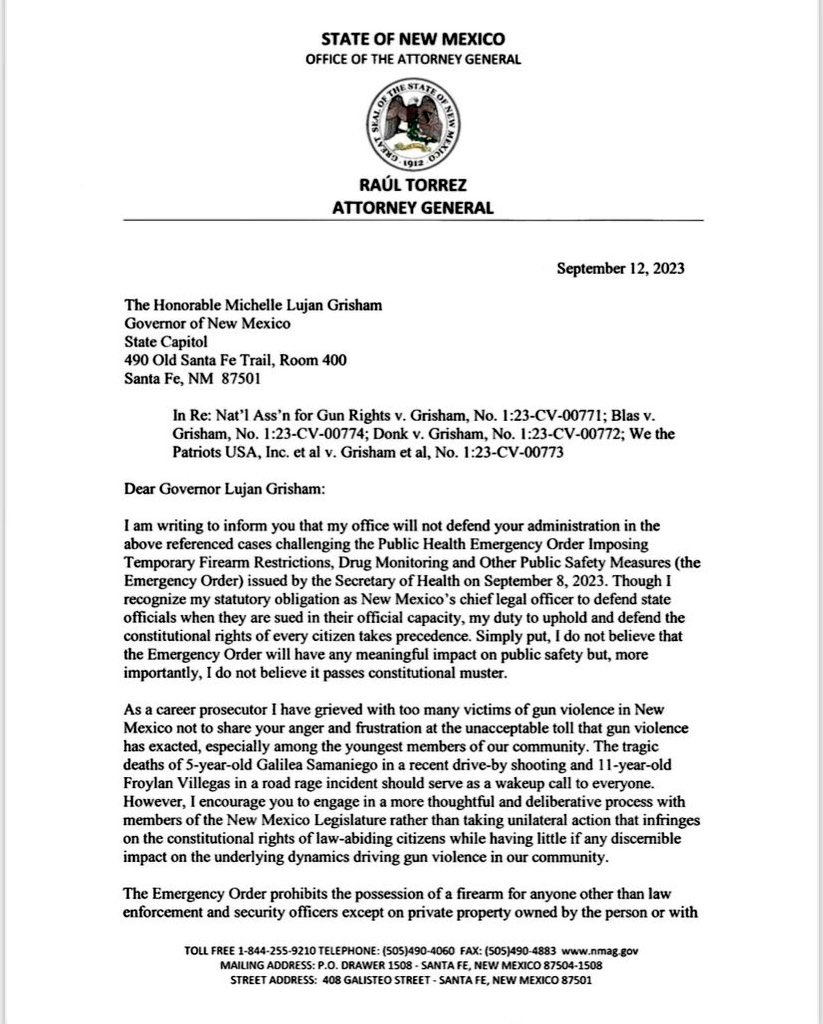 Reuters reports:
"They just want the right to carry their guns," Urias, who was appointed by President Joe Biden, said of plaintiffs requesting a temporary restraining order on parts of Lujan Grisham's Sept. 8 emergency public health order.

The Democratic governor issued the suspension on firearm carry laws to create a "cooling-off period" for authorities to address solutions to the state's high rates of gun crime after several children were shot dead in recent weeks.

"Over the past four days, I've seen more attention on resolving the crisis of gun violence than I have in the past four years," Lujan Grisham said in a statement after Urias' ruling.

Her order outraged gun-rights advocates and drew backlash from fellow Democrats and law enforcement officials who labeled it unconstitutional.

"Governor Grisham's tyranny is temporarily in check today," said Dudley Brown, president of a Colorado gun group that sued the governor.