Department of Justice prosecutors are seeking a 120-day jail sentence for Infowars host Owen Shroyer for 'speech crimes' related to January 6th.
Politico senior legal affairs reporter Kyle Cheney shared a court document saying "Shroyer spread election disinformation paired with violent rhetoric to hundreds of thousands, if not millions, of viewers."
"And, on January 6, 2021, Shroyer took to a megaphone before leading a crowd to the Capitol," the document read.
"He continued marching around to the top of the east steps chanting '1776!,' where rioters would eventually violently breach the Capitol and its police line and halt the transfer of presidential power. Shroyer did not step foot inside the Capitol, he did not need to; many of those who listened to him did instead," the document continued.
"Shroyer helped created January 6. The government respectfully requests that this Court sentence him to 120 days of incarceration, 12 months of supervised release, 60 hours of community service, and $500 in restitution," the document read.
JUST IN: Prosecutors are seeking 120 days in jail for Alex Jones sidekick Owen SHROYER, saying his rhetoric prior to — and on — Jan. 6 bear significant responsibility for the chaos that unfolded. https://t.co/NLB16NxsNs pic.twitter.com/bzXOCVANAv

— Kyle Cheney (@kyledcheney) September 6, 2023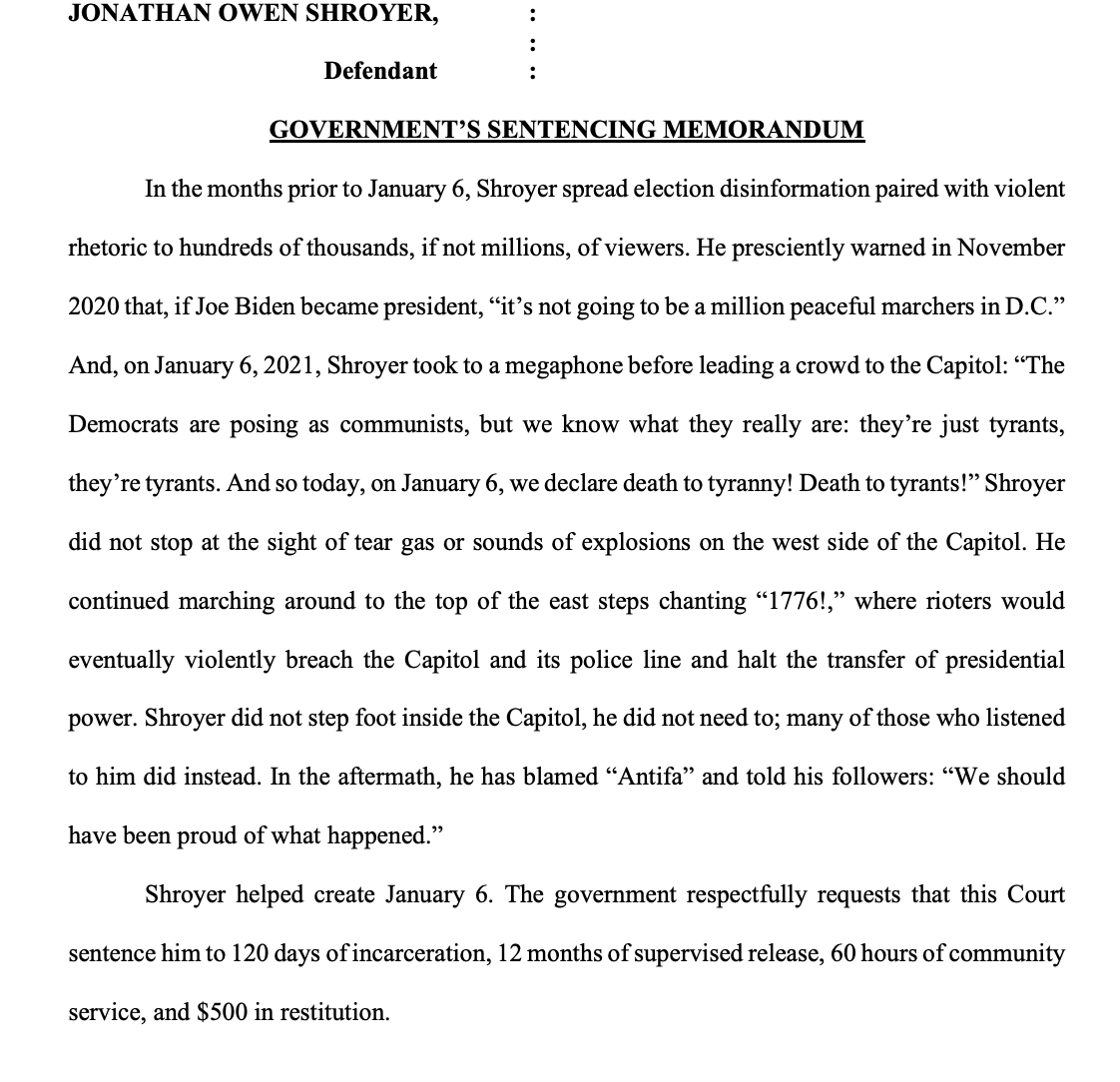 After a lengthy battle fighting charges against the corrupt court system regarding his presence outside the Capitol on January 6th, Shroyer pleaded guilty to a "misdemeanor charge of illegally entering a restricted area," according to the Associated Press. 
AP reported:
Shroyer, who didn't enter the Capitol but led rioters in chants near the top of the building's steps, pleaded guilty to a misdemeanor charge of illegally entering a restricted area. The charge carries a maximum sentence of one year behind bars.

U.S. District Judge Timothy Kelly scheduled a Sept. 12 sentencing hearing for the 33-year-old Shroyer, who has hosted a daily show called "The War Room With Owen Shroyer" for the website operated by conspiracy theorist Alex Jones.

Outside the Capitol on Jan. 6, 2021, Shroyer stood in front of a crowd with a megaphone and yelled that Democrats are "tyrants."

"And so today, on January 6, we declare death to tyranny! Death to tyrants!" he shouted.

Near the top of steps on the Capitol's east side, Shroyer, who's from Austin, Texas, led hundreds of rioters in chants of "USA!" and "1776!" He later said in an affidavit that he stood with Jones as Jones tried to deescalate the situation.

But, prosecutors wrote in a court filing, "Harkening to the last time Americans overthrew their government in a revolution while standing on the Capitol steps where elected representatives are certifying a Presidential Election you disagree with does not qualify as deescalation."
Read the full sentencing request court filing HERE.
The two-tiered justice system continues to target anyone who practiced their lawful right to protest and freedom of speech.
Enrique Tarrio, the former leader of the Proud Boys, received a 22-year prison sentence despite not being in Washington D.C. on January 6th.
WLTReport noted:
Enrique Tarrio, the former leader of the Proud Boys, has been slapped with a 22-year prison sentence over the January 6 incident at the Capitol.

And get this—the man wasn't even in Washington on that fateful day! Arrested two days earlier on unrelated charges, Tarrio was nowhere near the Capitol steps.

So what "crime" did he commit that justifies locking him up for over two decades?

Now, let's call this what it is: a blatant, in-your-face example of the Deep State doing what it does best—manipulating narratives to serve its agenda.