House Speaker Rep. Mike Johnson (R-LA) endorsed Donald Trump for the 2024 presidential election.
"I'm all in for President Trump. I expect he'll be our nominee," Johnson said on CNBC's "Squawk Box."
"We have to make Biden a one term president," he added.
WATCH:
.@SpeakerJohnson: "I'm all in for President Trump. I expect he'll be our nominee…we have to make Biden a one term president." pic.twitter.com/oVtmkRkQVj

— MAGA War Room (@MAGAIncWarRoom) November 14, 2023
CNBC reports:
Trump had not officially endorsed Johnson when he became the Republican Party's fourth nominee for speaker last month, amid a drawn-out scramble to replace ousted Speaker Kevin McCarthy, R-Calif.

But Trump gave what he called a "strong suggestion" to "go with the leading candidate, Mike Johnson, & get it done, fast!"

Trump has dominated the 2024 Republican presidential field, but it is unusual for a party's leader in Congress to publicly endorse a candidate this early in the race, before the first primary vote has been cast.

Johnson endorsed Trump in 2020, and he backed Trump's efforts to overturn his Electoral College loss to Biden. Johnson led a Supreme Court brief signed by more than 100 other House Republicans in support of a Texas lawsuit that aimed to discount the election results in key states that Trump lost.

Johnson on Tuesday called himself one of the "closest allies President Trump has in Congress."
President Trump endorsed Rep. Mike Johnson for Congress in 2022.
"Congressman Mike Johnson is a phenomenal representative in Congress for the Great People of Louisiana. Mike is working hard to Secure our Southern Border, Support our Military and Vets, Protect our Second Amendment, Hold Joe Biden and the Radical Left accountable, and Defend our great Constitution. Mike Johnson is a tough fighter for the America First agenda, and has my Complete and Total Endorsement!" Trump wrote last year.
NEW!

President Donald J. Trump announces his endorsement of Congressman Mike Johnson pic.twitter.com/RG4QcFjpew

— Liz Harrington (@realLizUSA) April 6, 2022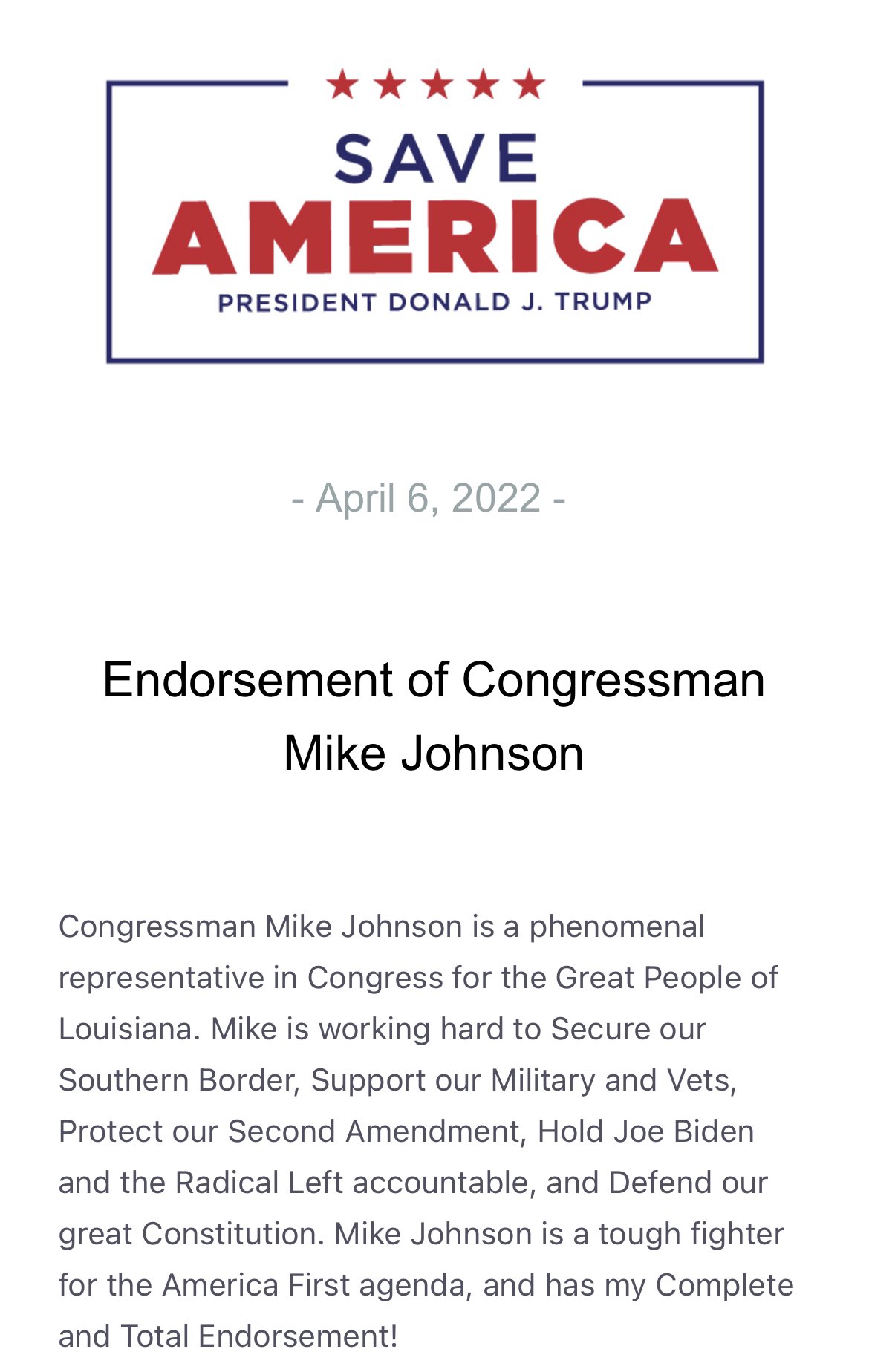 From the Associated Press:
Johnson reiterated that on Tuesday, saying in the interview that he was "one of the closest allies President Trump had in Congress."

Johnson's endorsement only firms up what is increasingly politically clear — that Trump is the Republican party's front-runner heading toward 2024 and few GOP leaders are willing or able to stand in his way.

The speaker's backing of Trump charts the course for other House Republicans and leaves those GOP lawmakers who prefer an alternative candidate increasingly isolated in their party, with few options.

While some more centrist conservative Republicans may not want to support Trump, particularly in congressional districts Biden won last time, they have few avenues in the Republican Party to muscle a different outcome in the presidential nominating contest.