Rep. Jim Jordan (R-OH), who won an internal GOP vote to secure the party's House Speaker nomination, is still rallying fellow Republicans to win a House Floor vote.
The House plans to vote Tuesday for a new Speaker.
Jordan must secure 217 votes to become House Speaker after the ousting of Rep. Kevin McCarthy (R-CA).
The Ohio Republican can only lose four GOP votes to eclipse the 217 threshold.
"The role of a Speaker is to bring all Republicans together. That's what I intend to do," Jordan said in a letter to colleagues.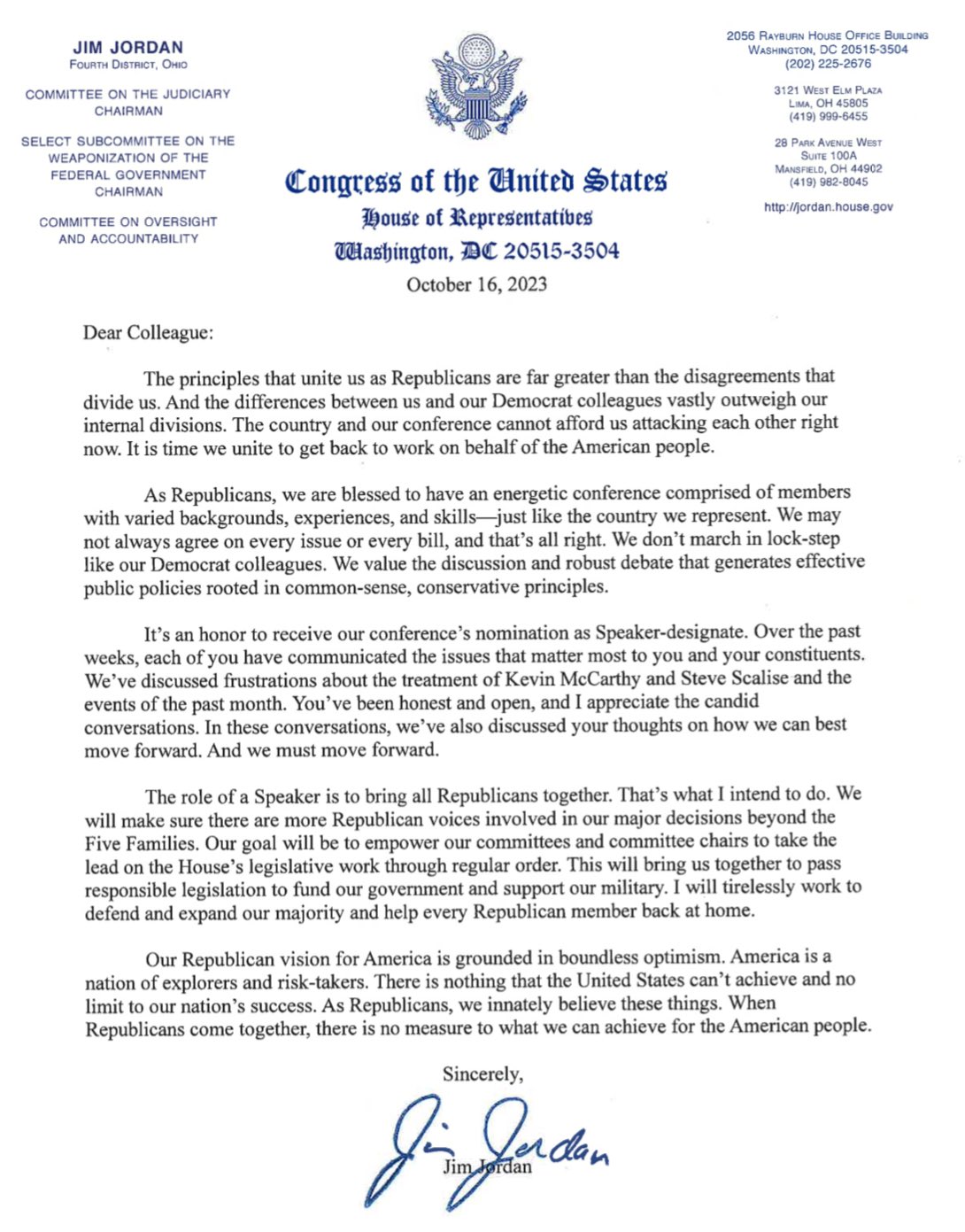 "The first vote is scheduled to be held at Noon today," Zero Hedge reports.
According to The Hill, there are currently more than four GOP holdouts who will not support Jordan for House Speaker.
Per The Hill:
Reps. Carlos A. Gimenez (R-Fla.) and Mike Lawler (R-N.Y.) said they plan to vote for ousted Speaker Kevin McCarthy (R-Calif.) on the floor Tuesday, and Rep. Don Bacon (R-Neb.) said he is "inclined" to do the same. McCarthy is supporting Jordan.

Rep. Mario Diaz-Balart (R-Fla.), on the other hand, said he will vote for House Majority Leader Steve Scalise (R-La.) on the floor for at least the first ballot, as did Rep. Mike Kelly (R-Pa.).

Many Republicans remain frustrated that Scalise had to withdraw after winning the GOP nomination for Speaker last week amid intense opposition from Jordan's supporters.

"I'm gonna vote the way I voted the first time, the first election we had," Kelly said. "I'm voting for Steve Scalise."

"They don't need to lecture me on the way things work. I'm 75 years old. I've watched it my entire life how things work. This is what tears teams apart. This doesn't make them closer," Kelly said.

Rep. Mariannette Miller-Meeks (R-Iowa) said, "No ma'am, I think we still need conversations," when asked if he knows how she will vote on Jordan's nomination, and Rep. Juan Ciscomani (R-Ariz.) is waiting to announce his decision Tuesday. Several other GOP lawmakers also stayed coy Monday night, declining to answer questions from reporters.

Rep. Ken Buck (R-Colo.) said Monday night that he is opposed to Jordan "right now" but noted that he was scheduled to meet with Jordan later that night. One matter he wanted to bring up, he told reporters, was the Jan. 6, 2021, Capitol riot.
Jordan is currently not expected to secure enough support in the first House Floor vote to become Speaker.
House Republicans left a GOP conference meeting making clear that while several members have moved in Jordan's favor, enough holdouts remain to deny him the Speakership on the first floor vote.

Follow live: https://t.co/5z34uEvvDg pic.twitter.com/BruAinXCyu

— The Hill (@thehill) October 17, 2023
"There are somewhere between a dozen and 20 something no votes on Jordan's candidacy to be speaker. Lawmakers tell us they'll drop off if he doesn't win on first ballot," said Punchbowl News' Jake Sherman.
☀️JORDAN IN TROUBLE

There are somewhere between a dozen and 20 something no votes on Jordan's candidacy to be speaker. Lawmakers tell us they'll drop off if he doesn't win on first ballot.

We have a deeply reported list on who is in play, who is out as Jordan tried to reach…

— Jake Sherman (@JakeSherman) October 17, 2023
Zero Hedge added:
There are currently two vacancies in the House due to the resignations of one Republican (Chris Stewart of Utah) and one Democrat (David Cicilline of Rhode Island), bringing the total to 433 members. House Republicans have 221 members, while Democrats have 212.

On Tuesday, holdout Rep. Juan Ciscomani (R-AZ), announced that he would vote for Jordan on the House floor.

Rep. Ann Wagner (R-MO), who had previously called Jordan a "nonstarter," also flipped for him. Others joined in.

"I feel like he can bring together everybody, from the moderates to the ultra conservatives, and Republicans across the spectrum," said Rep. Nicole Malliotakis (R-NY). "The bottom line is we've got to get back to work. We don't have any time here to waste."

Until a speaker is elected, the House is stalled on legislation – including addressing another government shutdown just a month away, after a six-week stopgap expires.
This is a developing story.