President Trump's campaign team asked the Republican National Committee to cancel its upcoming GOP primary debate and all future debates.
Trump campaign senior advisors Susie Wiles and Chris LaCivita released a statement that reads:
"The Republican National Committee should immediately cancel the upcoming debate in Miami and end all future debates in order to refocus its manpower and money on preventing Democrats' efforts to steal the 2024 election.
Anything less, along with other reasons not to cancel, are an admission to the grassroots that their concerns about voter integrity are not taken seriously and national Republicans are more concerned about helping Joe Biden than ensuring a safe and secure election."
JUST IN: Trump campaign senior advisors Susie Wiles and @LaCivitaC just released a new statement calling on the RNC to cancel the upcoming GOP debate in Miami and end all future debates in order to stop wasting GOP resources so that we can bolster our elections and prevent… pic.twitter.com/NB1fIvV91T

— Laura Loomer (@LauraLoomer) October 3, 2023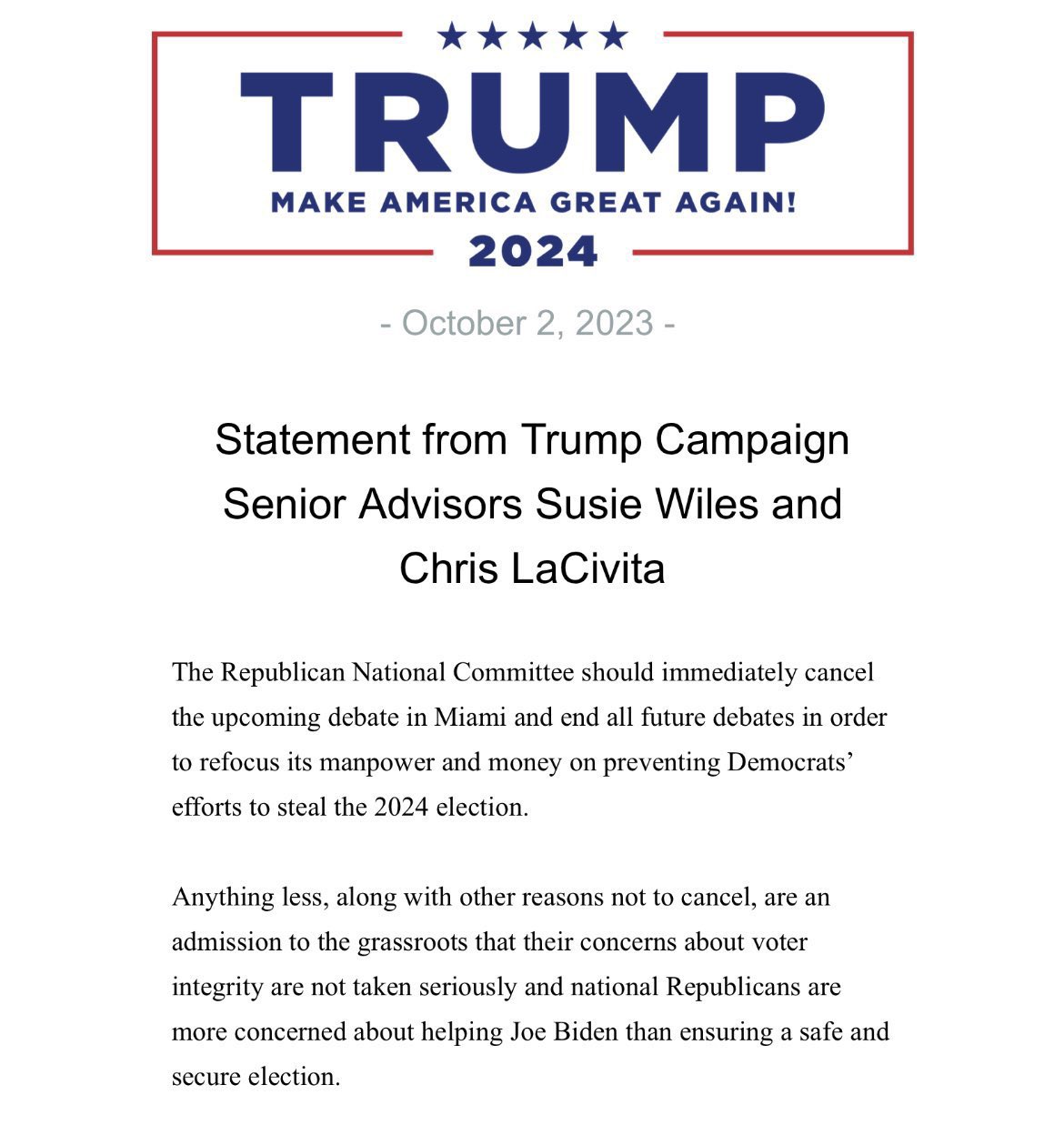 The Trump campaign's call to cancel future GOP primary debates follows the debacle of the 2nd debate held in California.
This one clip summarizes the embarrassment:
Is this the worst moment in GOP Presidential Primary Debate history? Fox News dropped the ball. pic.twitter.com/YPYGwvybsZ

— Brigitte Gabriel (@ACTBrigitte) September 28, 2023
"I have never seen a debate as TERRIBLE as last night's 2nd GOP debate — and I've been watching since Ford vs Carter!" Glenn Beck said.
I have never seen a debate as TERRIBLE as last night's 2nd GOP debate — and I've been watching since Ford vs Carter! But it wasn't just the candidates. Tonight on Glenn TV, I sit down with @StuDoesAmerica, @PatUnleashed, and @SteveDeaceShow to reveal the REAL loser of the debate. pic.twitter.com/6hHbEKu2lM

— Glenn Beck (@glennbeck) September 28, 2023
The disastrous GOP debate only bolstered Trump in the latest GOP primary polls.
Trump surges ahead of primary rivals after skipping second GOP debate: poll | Just The News https://t.co/peBpLQdmOT

— John Solomon (@jsolomonReports) October 2, 2023
📊 2024 GOP Primary – post-debate early state polling (commissioned by pro-DeSantis PAC)

Iowa:
Trump 50% (+31)
DeSantis 19%
Haley 11%
Scott 6%
——
New Hampshire:
Trump 46% (+28)
Haley 18%
DeSantis 12%
Christie 8%
——
South Carolina:
Trump 54% (+36)
Haley 18%
DeSantis 12%
Scott… pic.twitter.com/FFchD6Yuih

— InteractivePolls (@IAPolls2022) October 2, 2023
Just the News noted:
Former President Donald Trump has increased his lead over his Republican rivals following the second Republican primary debate, which he did not attend.

Trump took the support of 50% of respondents in the latest InsiderAdvantage survey. Florida Gov. Ron DeSantis placed second with 15% while former U.N. Ambassador Nikki Haley narrowly trailed him with 14%. Former New Jersey Gov. Chris Christie placed fourth with 5% while tech mogul Vivek Ramaswamy earned 3% support.

"DeSantis and Haley are the only remaining viable candidates of the current field of candidates," IA Chairman Matt Towery said. "In my opinion the debates are having a diminishing impact on the race. Absent some major unexpected shakeup, it appears Donald Trump is the prohibitive favorite to win the GOP nomination."

Former Vice President Mike Pence, former Arkansas Gov. Asa Hutchison, and North Dakota Gov. Doug Burgum all came in with 1%.
"LaCivita had already confirmed to NBC News that Trump would not be attending the third GOP debate and had previously urged the RNC to cancel any future GOP presidential debates," The Hill reports.
Per The Hill:
The RNC is holding its third debate in Miami on Nov. 8.

"The RNC should immediately put an end to any further primary debates so we can train our fire on Crooked Joe Biden and quit wasting time and money that could be going to evicting Biden from the White House," LaCivita said in a statement following the second debate.

Trump has skipped the first two GOP debates, releasing an interview with former Fox News host Tucker Carlson as counterprogramming for the first GOP debate in Milwaukee, and speaking to supporters in the Detroit area during the second one.

The former president has cited his commanding lead in GOP primary polling as justification for why he's decided to forgo the debates, frustrating some of his opponents who called him out during the second debate for not sharing the stage with the rest of them.