Men's tennis star Novak Djokovic advanced to the men's singles U.S. Open championship for Sunday.
The world's #2 ranked player returned to the historic hardcourt Grand Slam tournament this year after facing a travel ban in 2022 for his COVID-19 vaccination status.
The U.S. government in October 2021 restricted unvaccinated foreign travelers from entering the country by air, with the ban remaining in effect until May 2023.
For 18+ months, Novak Djokovic could not compete on American soil.
The Serbian tennis sensation has excelled this year, adding two Grand Slam titles to his collection.
Djokovic won the Australian Open after facing a travel ban the previous year and won this year's French Open championship.
2022: Novak Djokovic was unable to compete in the Australian Open due to the Australian government's decision to cancel his visa.

2023: Novak Djokovic wins a record 10th Australian Open.

Discrimination is temporary.
Class is permanent. #AustralianOpen #NovakDjokovic𓃵 pic.twitter.com/nxTqfYUNYH

— James Melville (@JamesMelville) January 29, 2023
𝐇𝐈𝐒𝐓𝐎𝐑𝐘 𝐌𝐀𝐃𝐄 🌟

Novak Djokovic beats Casper Ruud to claim the 2023 French Open! 🏆 #RolandGarros | #WeekendOfChampions | @DjokerNole pic.twitter.com/T5yLLdlKdQ

— Eurosport (@eurosport) June 11, 2023
A victory at the U.S. Open, the biggest tennis tournament of the year in the United States, would be sweet redemption for the legendary athlete.
"Sadly, I will not be able to travel to NY this time for US Open," Djokovic said in 2022.
Sadly, I will not be able to travel to NY this time for US Open. Thank you #NoleFam for your messages of love and support. ❤️ Good luck to my fellow players! I'll keep in good shape and positive spirit and wait for an opportunity to compete again. 💪🏼 See you soon tennis world! 👋🏼

— Novak Djokovic (@DjokerNole) August 25, 2022
With the unlawful, immoral travel ban lifted, Djokovic hasn't disappointed in the 2023 U.S. Open.
Djokovic seeks to extend his all-time record 23 Grand Slam men's singles titles against #3 Daniil Medvedev, who defeated him in the 2021 U.S. Open championship.
They meet again. 🍿

Novak Djokovic and Daniil Medvedev will face off in the US Open Final, a rematch from 2021 🏆 pic.twitter.com/lRYqWiYoze

— Bleacher Report (@BleacherReport) September 9, 2023
From ESPN:
A year after Djokovic could not travel to the United States because he is not vaccinated against COVID-19, the 36-year-old from Serbia is one victory away from a fourth title in New York and 24th Grand Slam championship overall.

"Well, fact is that, at 36, every Grand Slam final … could be the last one. So I think that I probably value these occasions and opportunities to win another Slam more than I have maybe 10 years ago," said Djokovic, who would be the oldest man to win the US Open in the professional era, which began in 1968. "I don't know how many I have ahead of me now."

For the third time in his career, Djokovic has made it to the finals of all four majors this season, with victories at the Australian Open in January and French Open in June. His 10th US Open final appearance ties Bill Tilden for the most by a man in tournament history.

On Sunday, Djokovic will face 2021 US Open champion Daniil Medvedev, who advanced by eliminating defending champ Carlos Alcaraz 7-6 (3), 6-1, 3-6, 6-3 in the second semifinal Friday night. The No. 3-seeded Medvedev, a 27-year-old from Russia, denied Djokovic a calendar-year Grand Slam by beating him in the final at Flushing Meadows two years ago.
A victory at Sunday's U.S. Open final would be the ultimate redemption for Djokovic.
It's a slap in the face to the pharmaceutical manufacturers for their toxic product, and Djokovic refused to relinquish his bodily autonomy.
Moderna is a U.S. Open sponsor, which faced criticism from another historic sports figure in attendance.
Aaron Rodgers mocks Moderna at US Open in support of unvaccinated tennis star Novak Djokovic https://t.co/lEQ9107Qpc

— TheBlaze (@theblaze) September 5, 2023
Super Bowl-winning quarterback Aaron Rodgers dropped this story in his Instagram feed, making his feelings known about the pharmaceutical company.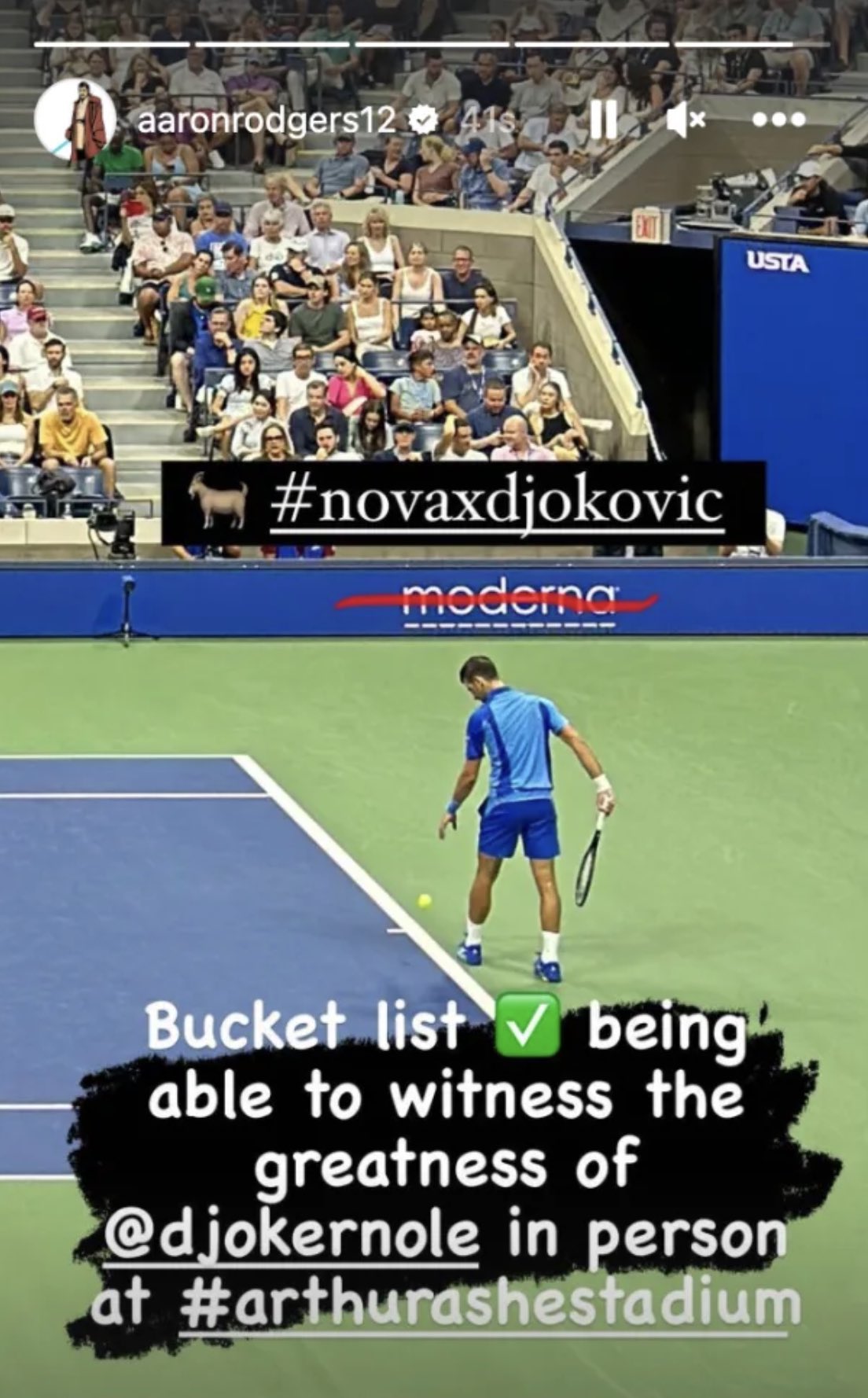 The Blaze reports:
Super Bowl champion Aaron Rodgers mocked vaccine manufacturer Moderna at the U.S. Open tennis tournament in New York while supporting tennis star Novak Djokovic who is famously unvaccinated.

Rodgers, who plays for the New York Jets, was in attendance at the high-profile event and posted a photo of Djokovic to his Instagram page with the caption "Bucket list [checkmark] being able to witness the greatness of [Novak Djokovic] in person at #ArthurAsheStadium."

A logo for Moderna, which was an official partner of the event, was shown in the picture, which Rodgers crossed out and replaced with "novaxdjokovic" in response to the athlete's unvaccinated status. Rodgers is also famously unvaccinated.
In an interview with BBC, Djokovic broke his silence about his refusal to take the experimental COVID-19 shot.
"Are you prepared to forego the chance to be the greatest player to ever pick up a racket, statistically, because you feel so strongly about this jab?" a BBC reporter asked Djokovic last year.
"Yes," Djokovic responded.
WATCH:
Novak Djokovic spoke with BBC about the COVID jab. He says he is not against vaccines but against infringements on bodily autonomy.

Are you willing to forego the chance to be the greatest player to ever pick up a racket because you feel so strongly about this jab?

Novak: Yes pic.twitter.com/erEC4SI8eP

— The Vigilant Fox 🦊 (@VigilantFox) February 15, 2022
Watch the full interview from February 2022:
A victory for Djokovic on the grandest tennis stage in the United States would also be a slap in the face to the U.S. government, which banned him from entering the country for 18+ months.
In his first tournament on U.S. soil since the travel ban's lifting, Djokovic captured the the Western & Southern Open title in Cincinnati, Ohio.
Per CNN:
Playing in his first tournament on US soil since 2021, the 36-year-old Serb rallied from a set and a break down against the world number one, while saving a championship point to claim his third Cincinnati Open title and the 95th ATP Tour title of his career.

Following the three hour and 49-minute contest, which was the longest best-of-three sets final on the ATP Tour since 1990, Djokovic dropped to the ground for several seconds before getting up and tearing off his shirt.

"Definitely one of the toughest, most exciting matches I was ever a part of on any tournament," an exhausted Djokovic said after the match. "It did feel like a grand slam final even more than that to be honest. Every match that we play against each other goes the distance."

In what could be an early preview of the US Open final next month, Djokovic said that he hoped he could play the 20-year-old "in some weeks time in New York," pausing momentarily before adding "for the crowd. I don't know about me, it wouldn't be nice."
A Grand Slam title against the man who defeated Djokovic in his last contest in the United States before the travel ban would be a sweeter victory.
A victory for Djokovic is a victory for everyone who fought for their bodily autonomy during COVID tyranny.
Novak Djokovic will take on Daniil Medvedev Sunday at 4 p.m. EST for the U.S. Open men's singles title.