The 2023 Smart Cities Connect Spring Conference & Expo occurred May 16-18, 2023, in Denver, Colorado.
According to its website, Smart Cities Connect provides "meaningful content and connect a thoughtful community of decision-makers to empower smart cities at all stages of growth. We accelerate the adoption of smart technology solutions, aid in problem solving, and amplify city resources for the betterment of cities, communities, and their citizens."
"Smart Cities Connect Conference and Expo offers the most comprehensive conference, exposition and accelerator of smart city innovation in North America. We deliver premium networking and educational opportunities with a keen focus on city leaders and their priorities. Working closely with the technology community, we bring together the largest collection of intelligent systems providers for energy, infrastructure, networks, data management, urban mobility, citizen engagement and governance solutions."
"Smart Cities Connect Media & Research presents relevant news covering future ready technologies, impact on citizen life, smart buildings, networks, energy, mobility, and governance. We host educational webinars and share white papers for public access. We are also home to the largest city-first membership organization for smart city leaders. This group advances the growth of smart cities by working together, discussing projects, and sharing common goals and challenges," Smart Cities Connect adds.
The conference cites funding provided by the passage of the Infrastructure Bill.
"With the recent passage of the historic Infrastructure Bill, there's a lot to parse through and many routes to approach the usage of new funds by cities," the website states.
Some funding includes:
$65B Smart Energy
$65B Digital Transformation (Broadband)
$47B Resilience
$55B Smart Water
$39B Smart Mobility (public transit)
$25B Smart Airports
$17B Smart Ports
$15B Electric Vehicles
$10B Reconnecting Communities
$66B Railroads
$100B Smart Roads & Bridges
The 2023 program discussed topics such as:
Digital Transformation: Networks, Data, AI, 5G, Censors, loT, Cyber
Urban Operations: Lighting, Water, Waste, Planning, Emergency Response
Smart Mobility: Transportation, Autonomous, Public Transit, Ride Share
Urban Infrastructure: Buildings, Energy, Grid, Utilities, Resilience
Community Engagement: Policy, Funding, Commerce, Inclusion, Governance
Here's the full list of 2023 participating cities: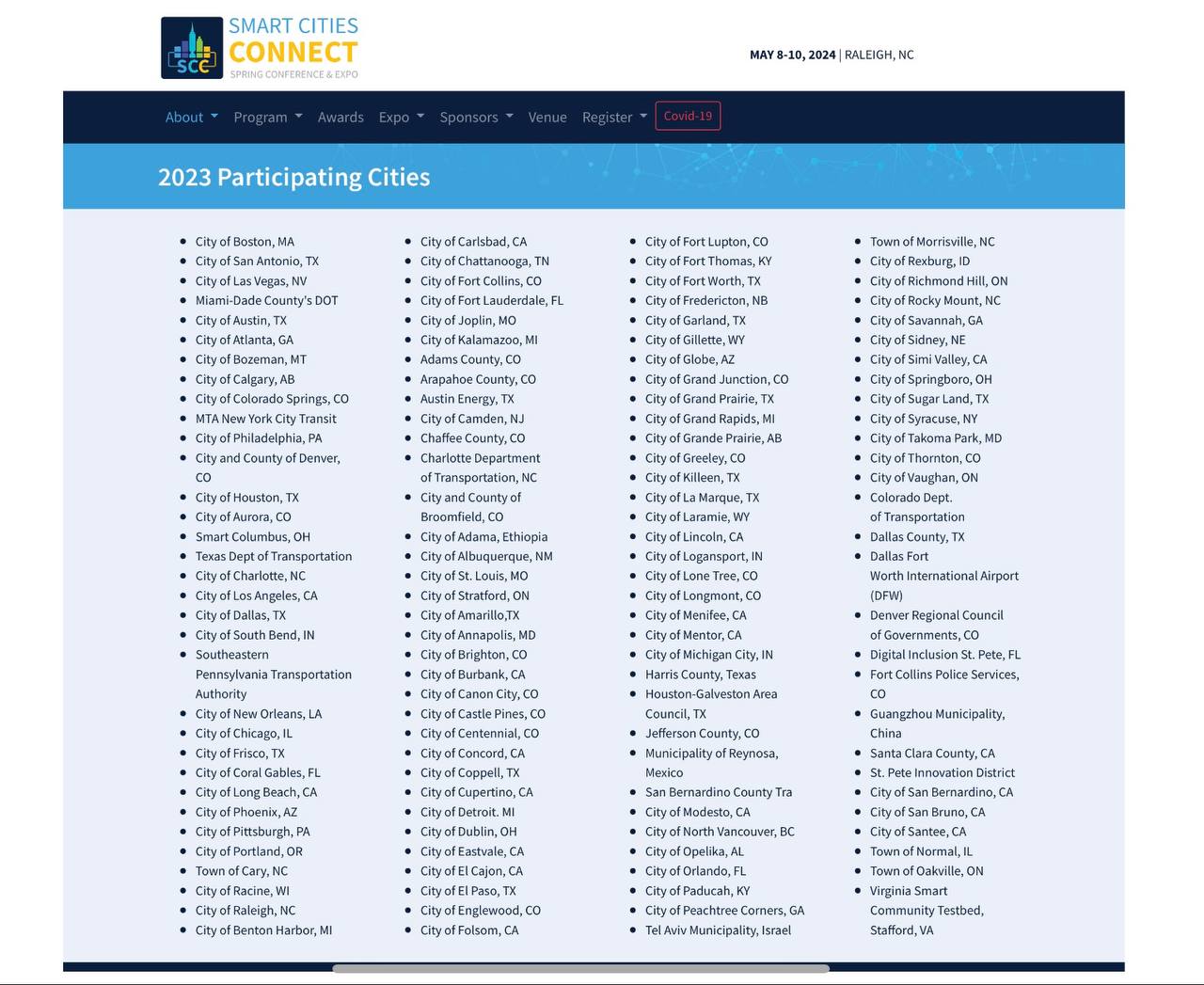 Raleigh, North Carolina will host the 2024 Smart Cities Connect Spring Conference & Expo.
The full 2023 program agenda includes presentations on Climate Action Plans, Smart Cities and Infrastructure Automation, City Spotlights: Digital Transformation, The Heart of Smart Cities is Data, and several others.
Review the full agenda HERE.