Not all heroes wear capes….. some deliver pizzas.
A 25-year-old man driving by a house fire sprang into action, saving the lives of five people while seriously injuring himself with a leap from a second-story window during rescue efforts.
Body camera video shows the heroic efforts of a pizza delivery driver after he ran into a burning home and rescued five sleeping – primarily children – the youngest a 1-year-old and the oldest an 18-year-old
Nicholas Bostic was in the right place at the right time. Bostic was driving in Lafayette, Indiana, at about 12:30 a.m. on July 11 when he saw a home going up in flames.
Despite the danger to himself, Bostic ran into the home to wake the sleeping children and tell the family to get out. Four children and their 18-year-old sister were inside the house sleeping at the time.
The children's parents were reportedly out for the evening, leaving the 18-year-old in charge.
"I told them to get out, and they followed me down the stairs and out the house. Bostic told FOX12 that once they were outside,  the children told him there was a 6-year-old girl trapped upstairs. Bostic immediately headed straight upstairs to find the child, ultimately hearing her crying. He then picked up the child and jumped from a second-story window.
Bostic ran back into the house and searched for the 6-year-old girl, ultimately hearing her crying.
Watch the video showing the aftermath of the heroic house-fire rescue:
Here's the video to go along with the story. pic.twitter.com/TvZ5wzCg1f

Trending: O'Keefe Is Back! His New Media Group Hits DNC Hard – Plans To Expose Donation Harvesters Caught Red-Handed [VIDEO]

— LafayetteINPolice (@LafayetteINPD) July 15, 2022
"I mean, I was high-tailing it, 110%. It started to get hard to see because the smoke was getting bad. I don't know how to explain it, but it was like I accepted I was going to probably die, right there, that night. But it was a weird calm. You just got to work as fast as you can."
According to Lafayette Police Department, the child was "miraculously mostly uninjured."
The hero shared with Bangbert how he felt after landing from the perilous jump.:
"That's where I thought they found me, like I'd just had enough. I thought my last bit of energy was right there, where I landed. But I guess I had a little bit of an extra; I don't know, extra backup – like a backup for the backup – for one last push… Sitting here telling you about it, it's just unreal to me. It's God, man. That's all I can think of."
Bostic suffered injuries, some requiring stitches in his hand and severe smoke inhalation. But fortunately, he'd had the reflex to cover his mouth and nose with his shirt.
While the firefighter-in-the-making was focused on just getting the kids to safety, a video posted by the Lafayette Police Department gives us a little idea of how severe the fire was. And near the end of the video, you can see that as he was being treated for his injuries, Bostic's main concern was getting everybody to safety.
Bostic ran back upstairs and jumped out a second-story window, sustaining several injuries, including deep cuts, a possible severed tendon, blistered hands, and severe smoke inhalation.
"This temporary pain, oh yeah, it's so worth it, it's worth every bit," he said.
Bostic seems a little uncomfortable with his hero status, sharing: "Everyone says, hero-this or hero-that. I don't know about that. I was just a guy." Well, that's one very courageous guy indeed!
A few fundraisers have been set up to help Bostic as he tackles his injuries and mounting bills, including a GoFundMe that has raised nearly $500,000.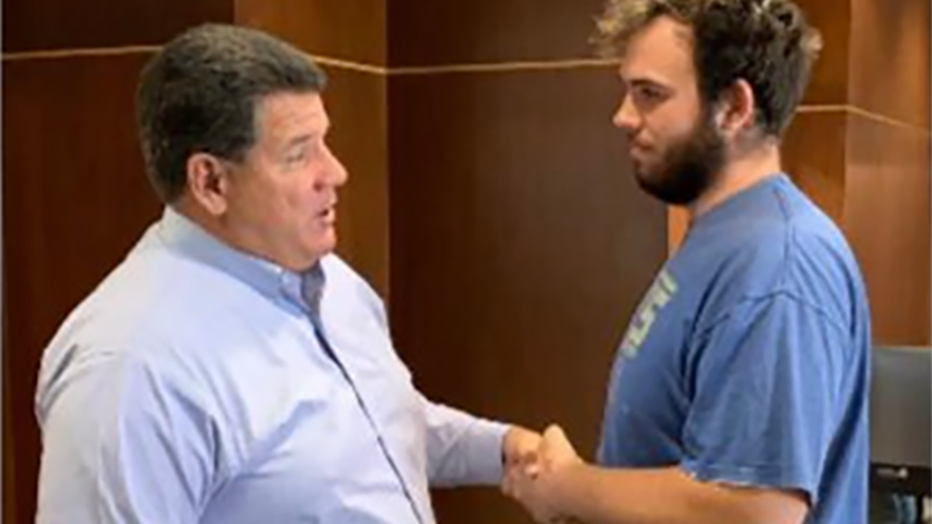 Nicholas Bostic (photo credit: Lafayette, Indiana Police Department)