President Trump told Fox News he would accept the role of House Speaker for a "short period" while the Republican Party searched for a permanent replacement.
BREAKING: Trump would accept House speakership for a "short period" while Republicans decide on a permanent replacement https://t.co/TRau2Ls9VS

— Fox News (@FoxNews) October 5, 2023
This development came on the heels of Trump reportedly visiting the Capitol next week to potentially be a House Speaker candidate.
🚨 JUST IN: President Trump is expected to attend the GOP's closed candidate forum for House Speaker on Tuesday, according to Fox News

He's being nominated by SEVERAL members of the House.

Could we potentially see him throw his hat in the ring? 😏 pic.twitter.com/c88PLiOxEd

— Nick Sortor (@nicksortor) October 5, 2023
"From colleague Brooke Singman. Trump expected to attend GOP mtg on Tuesday for closed candidate forum for House Speaker," Fox News Senior Congressional Correspondent Chad Pergram said Thursday.
From colleague Brooke Singman. Trump expected to attend GOP mtg on Tuesday for closed candidate forum for House Speaker

— Chad Pergram (@ChadPergram) October 5, 2023
From POLITICO:
Former President Donald Trump is considering a visit to the Capitol next week where he is open to pitching himself as a speaker candidate, according to a Republican familiar with internal discussions.

If it happens, Trump would come speak to the House GOP sometime before lawmakers' internal speaker election, which is set to happen on Wednesday, that person said. A final decision hasn't yet been made. The full GOP will meet Tuesday for an internal "candidate forum."

It's not clear if Trump — the frontrunner in the 2024 presidential primary — would actually run for speaker. Winning would require near-unanimity from the House GOP, a difficult hurdle for the controversial former president. One of his closest Hill allies, House Judiciary Chair Jim Jordan, is already in the race. (Jordan told NBC that he discussed his speakership bid with Trump this week.)

It remains a longshot idea: The House has never elected a speaker who wasn't a member of Congress, though it is not technically a constitutional requirement. Trump could also run into problems with the GOP's own conference rules, which state a member of GOP leadership is required to step aside "if indicted for a felony for which a sentence of two or more years imprisonment may be imposed."

Still, the former president has openly flirted with the idea of becoming GOP speaker in the days since Kevin McCarthy's fall. And several members, including Rep. Marjorie Taylor Greene (R-Ga), have backed the idea.
President Trump issued a statement on Truth Social Thursday morning about the possibility of him becoming House Speaker.
"I am running for President, have a 62 Point lead over Republicans, and am up on Crooked Joe Biden, despite the Democrat Party's massive Law-fare, Weaponization, and Election Interference efforts, by 4 to 11 Points, but will do whatever is necessary to help with the Speaker of the House selection process, short term, until the final selection of a GREAT REPUBLICAN SPEAKER is made – A Speaker who will help a new, but highly experienced President, ME, MAKE AMERICA GREAT AGAIN!" Trump said.
Fox News reports:
Former President Donald Trump told Fox News Digital that he would accept a short-term role as speaker of the House of Representatives to serve as a "unifier" for the Republican Party until lawmakers reach a decision on who should take on the post.

Rep. Kevin McCarthy, R-Calif., was removed as speaker of the House on Tuesday after Rep. Matt Gaetz, R-Fla., introduced a measure against him known as a motion to vacate, accusing him of breaking promises he made to win the speaker's gavel in January.

"I have been asked to speak as a unifier because I have so many friends in Congress," Trump told Fox News Digital. "If they don't get the vote, they have asked me if I would consider taking the speakership until they get somebody longer-term, because I am running for president."

"They have asked me if I would take it for a short period of time for the party, until they come to a conclusion — I'm not doing it because I want to — I will do it if necessary, should they not be able to make their decision," Trump said.

Trump did not specify who had asked him, although a number of GOP lawmakers have said he is their preference for speaker.
Although Trump said he would accept a 'short-term role' as House Speaker, he gave his endorsement to Rep. Jim Jordan (R-OH) for the job.
"Congressman Jim Jordan has been a STAR long before making his very successful journey to Washington, D.C., representing Ohio's 4th Congressional District. Respected by all, he is now Chairman of the House Judiciary Committee. As President, I had the honor of presenting Jim with our Country's highest civilian award, The Presidential Medal of Freedom. So much is learned from sports, and Jim was a master! While attending Graham High School, he won State Championships all four years, a rarity, and compiled an amazing 156-1 record. At the University of Wisconsin-Madison, Jim became a two-time NCAA Division l Wrestling Champion. He won his 1985-86 NCAA Championship Matches in his weight class. Jim has a masters degree in Education from Ohio State University & a Law Degree from Capital University," Trump said on Truth Social.
"He is STRONG on Crime, Borders, our Military/Vets, & 2nd Amendment. Jim, his wife, Polly, & family are outstanding – He will be a GREAT Speaker of the House, & has my Complete & Total Endorsement!" he added.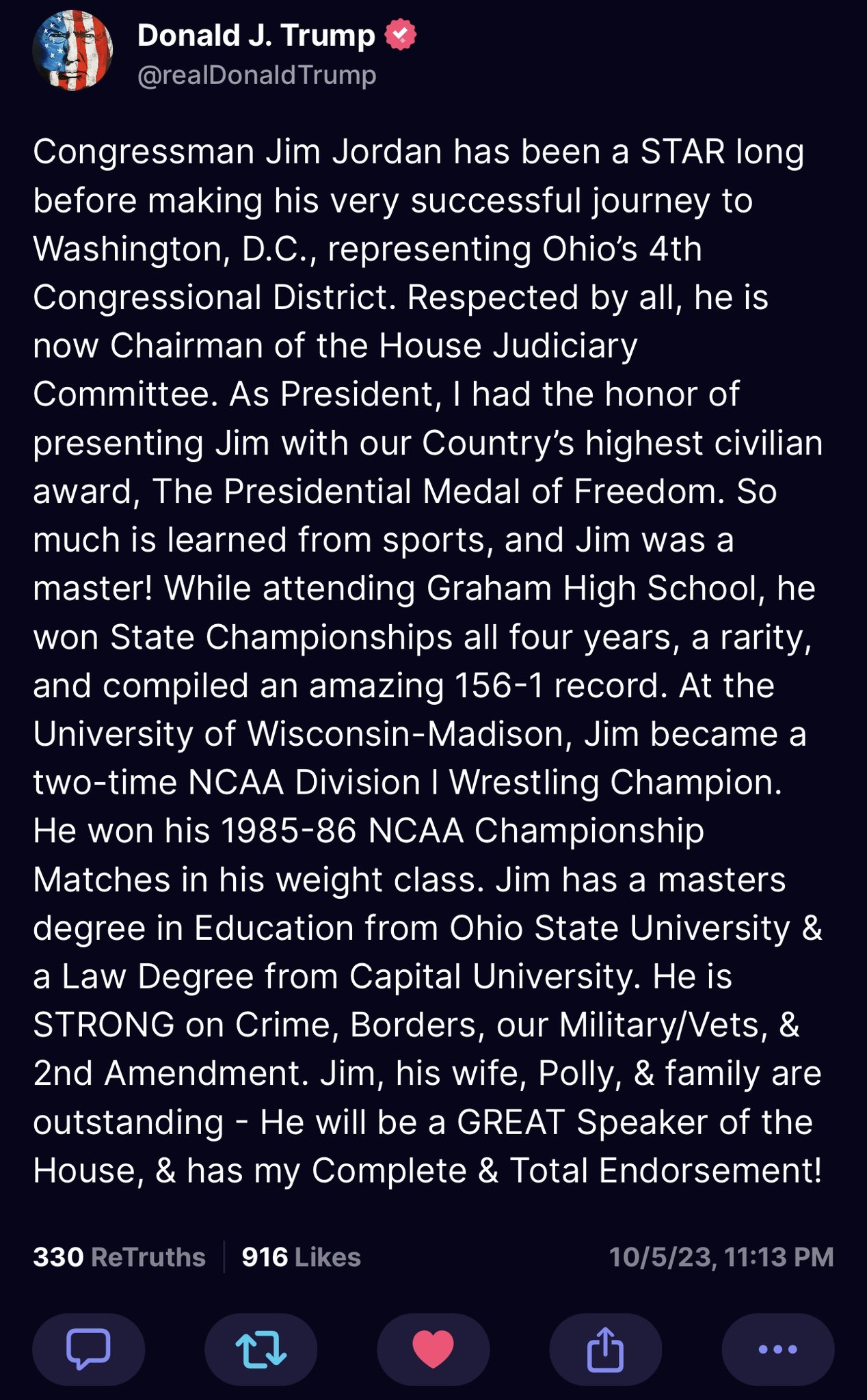 Read more about the "Grey Area" that could allow Trump to become House Speaker:
The "Grey Area" That Could Allow Trump To Still Become Speaker!