Dallas Mavericks owner Mark Cuban discriminated against journalist Layah Heilpern for being unvaccinated against COVID-19.
Heilpern revealed the text message exchange between her and Cuban on her Telegram channel.
She wanted to interview Cuban on the topic of cryptocurrency.
"When you get vaccinated and tell others to do the same I will come on," Cuban wrote.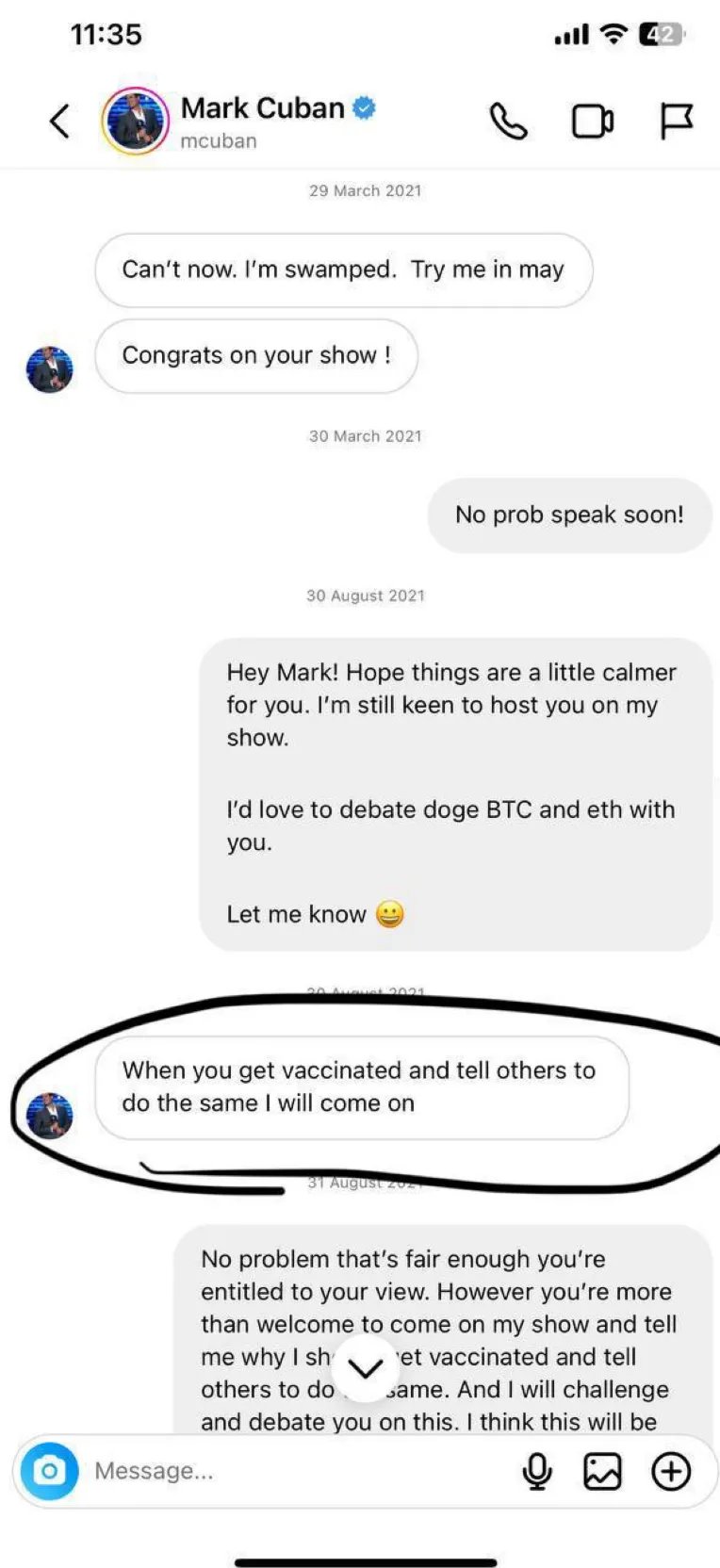 "No problem that's fair enough you're entitled to your view. However you're more than welcome to come on my show and tell me why I should get vaccinated and tell others to do the same. And I will challenge and debate you on this. I think this will be very interesting especially since nobody is willing to have an open dialogue on this subject," Heilpern responded.
"Not my offer. I will not do it if you are not. Your choice," Cuban wrote.
"Hey Mark, out of curiosity where did you get this information on my vaccination status? I don't ever recall sharing that personal information or having an *antivax* opinion," she wrote.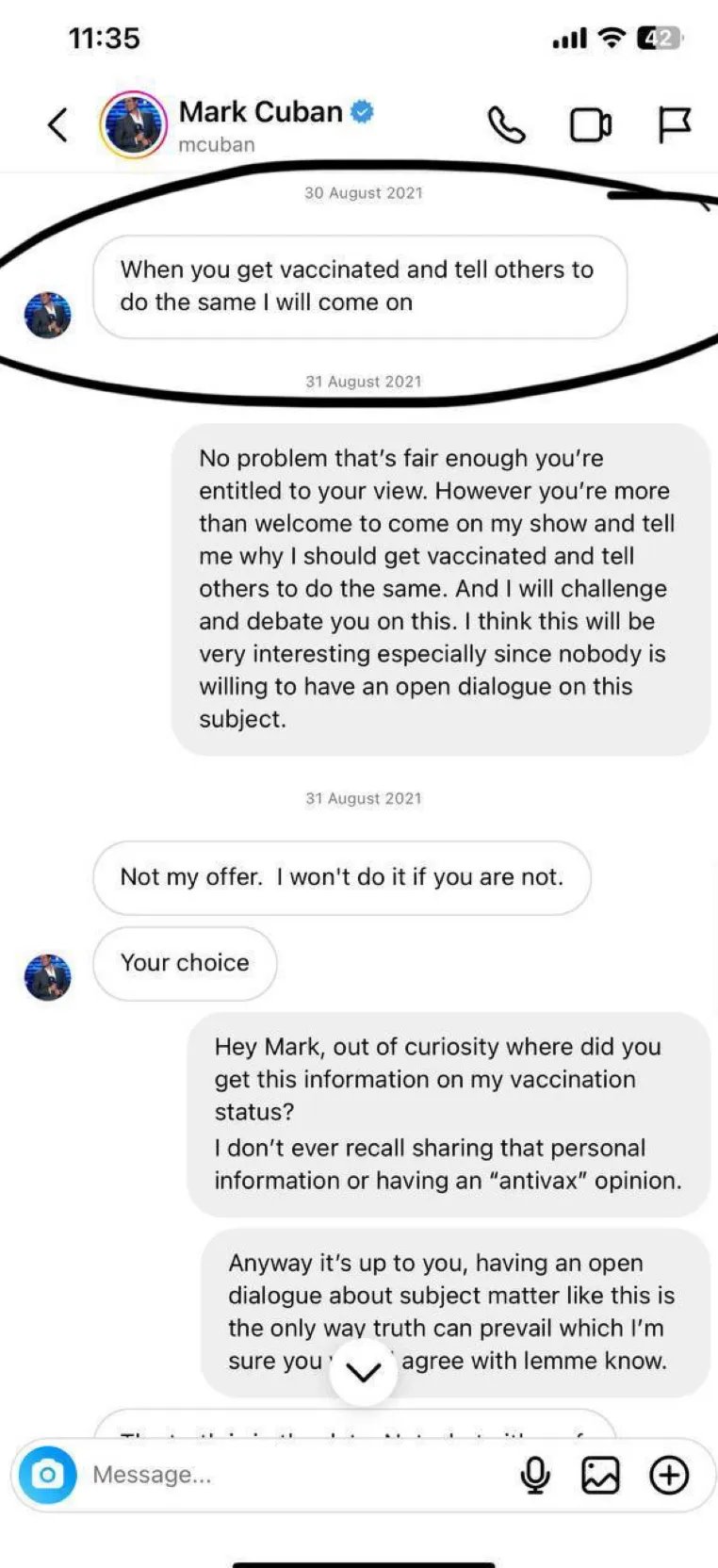 "The truth is in the data. Not what either of us say," Cuban wrote.
"Let's readdress this conversation in 10 years from now when we have more conclusive data and the truth prevailed," Heilpern wrote.
"My choice not to support people who haven't been vaccinated," Cuban wrote.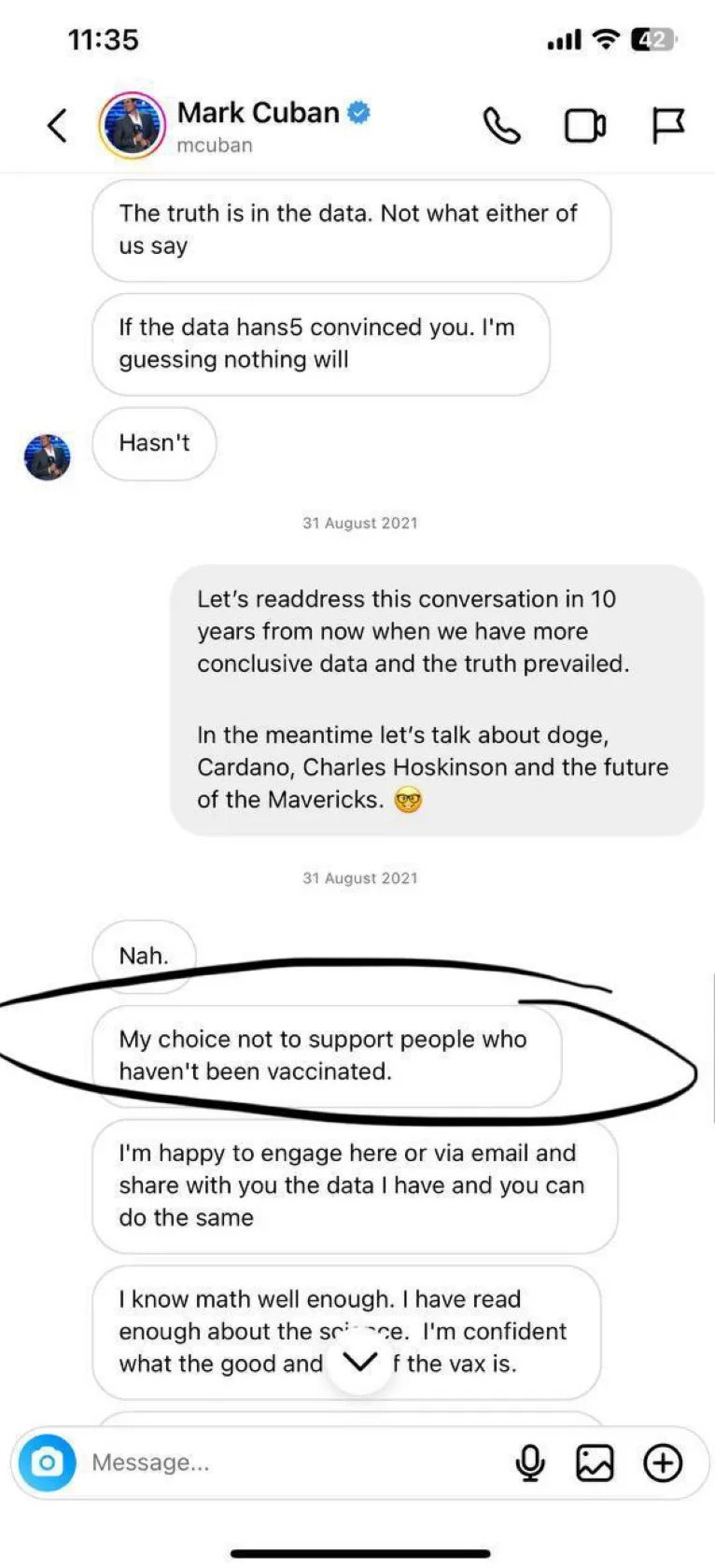 NEW: Mark Cuban showed prejudice against unvaxxed journalist Layah Heilpern after she had requested an interview.

Cuban said he would only give an interview if @LayahHeilpern went out and got vaccinated and told "others to do the same."

Cuban then went a step further and said… pic.twitter.com/YzUw8VvZ4a

— Collin Rugg (@CollinRugg) September 18, 2023
"Let me clear it was for a VIRTUAL interview," Heilpern said Monday.
Let me clear it was for a VIRTUAL interview 🤡

— Layah Heilpern (@LayahHeilpern) September 19, 2023
Outkick reports:
Heilpern specified that she requested Cuban speak to her for a virtual interview.

This was not a matter of Cuban trying to avoid physical interaction with the unvaccinated. Rather, he was trying to use his clout to make someone jab themselves with an experimental vaccine.

Obviously, Cuban thinks little of those who made the personal health decision to stay unvaccinated. He has no respect for them. He dismissed them. And likely still does.

Cuban believed in, and apparently enabled, the idea that society ought to be segregated between the vaccinated and unvaccinated.
Texts: Mark Cuban discriminated against unvaxxed journalists, said he wouldn't do interviews until they took shots and promoted vax on showshttps://t.co/ZuGJ3Y0NlF

— Jordan Schachtel @ dossier.today (@JordanSchachtel) September 18, 2023
Heilpern hosts "The Layah Heilpern Show," which has approximately 450,000 subscribers.
The journalist has a significant following on her show and Cuban wanted her to promote the experimental injections to others.
Jordan Schachtel noted other tactics Cuban used during the height of the COVID-19 plandemic.
From The Dossier:
During the Covid hysteria times, Cuban infamously hired undercover shoppers to assess compliance with draconian government mandates. He also forced all Mavs employees to take the shots, and required vax passes to go to basketball games.

""It is your choice [to get vaccinated]. It is absolutely, positively up to you. But there's consequences that come with that, you know?" Cuban said in an interview with Sports Illustrated at the time. "If you work for me, I require my employees to be vaccinated."

"Like you, I don't want my kids to be at risk," he added, falsely advancing the idea that the shots stop transmission of disease.