Within hours of winning the GOP's House Speaker nomination, House Majority Whip Rep. Tom Emmer (R-MN) withdrew his name from consideration for the role.
Tom Emmer drops out of speaker's race https://t.co/jgud9x9PI1

— Just the News (@JustTheNews) October 24, 2023
Emmer's decision to drop out follows a brutal statement from Donald Trump opposing his nomination.
"I have many wonderful friends wanting to be Speaker of the House, and some are truly great Warriors. RINO Tom Emmer, who I do not know well, is not one of them. He never respected the Power of a Trump Endorsement, or the breadth and scope of MAGA—MAKE AMERICA GREAT AGAIN! He fought me all the way, and actually spent more time defending Ilhan Omar, than he did me—He is totally out-of-touch with Republican Voters. I believe he has now learned his lesson, because he is saying that he is Pro-Trump all the way, but who can ever be sure? Has he only changed because that's what it takes to win? The Republican Party cannot take that chance, because that's not where the America First Voters are. Voting for a Globalist RINO like Tom Emmer would be a tragic mistake!" Trump wrote on Truth Social.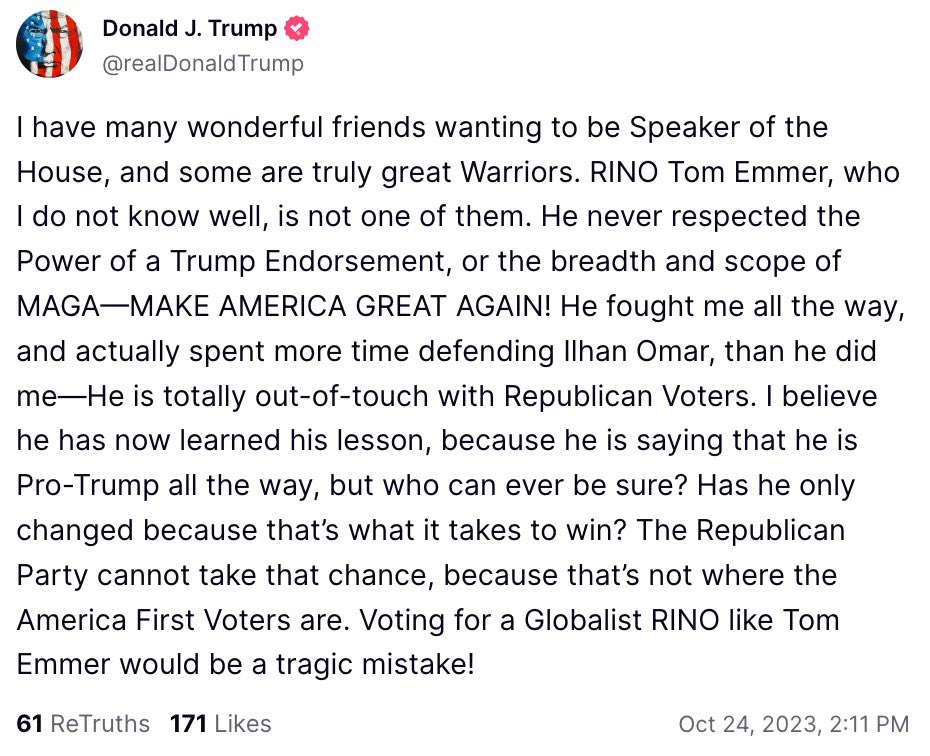 According to POLITICO, Trump pulled strings behind the scenes to squash Emmer's Speaker bid.
Per POLITICO:
Donald Trump pulled out all the stops to squash Tom Emmer's speakership bid.

Hours after the Minnesota Republican secured the House GOP's speakership nod, the former president and his allies began calling GOP lawmakers on Tuesday afternoon to vent about his dislike for Emmer, according to two Republicans with knowledge of the calls.

Those moves followed a public post from on Truth Social in which Trump called the No. 3 House GOP lawmaker "totally out-of-touch with Republican Voters," adding that House Republicans would be making "a tragic mistake" by picking him as speaker. It didn't take long after that for Emmer to drop out of the race.

Trump's opposition to Emmer emerged on Friday night, soon after the majority whip jumped into the race to lead the bitterly divided House GOP conference out of its three-week wilderness without a speaker. The former president's animosity toward the Republican lawmaker became the death knell for his hours-old speakership nomination, on top of more than two dozen GOP colleagues who were standing against Emmer — an impossible obstacle given his four-vote margin for error.
After Emmer won the GOP's House Speaker nomination, 26 Republicans voiced opposition to the Minnesota Congressman.
🚨 BREAKING: Here we go again! Listed are 26 House Republicans that have announced they refuse to vote for Tom Emmer to be House Speaker!

Rick Allen
Jim Banks
Andy Biggs
Josh Brecheen
Michael Cloud
Andrew Clyde
Doug Collins
Eli Crane
Warren Davidson
Bob Good
Paul Gosar… pic.twitter.com/MYlCTEUS9D

— Wayne DuPree  (@WayneDupreeShow) October 24, 2023
The full list included:
Rick Allen

Jim Banks

Andy Biggs

Josh Brecheen

Michael Cloud

Andrew Clyde

Doug Collins

Eli Crane

Warren Davidson

Bob Good

Paul Gosar

Marjorie Taylor Greene

Diana Harshbarger

Ronny Jackson

Thomas Massie

Mary Miller

Max Miller

Cory Mills

Troy Nehls

Ralph Norman

Andy Ogles

Scott Perry

Chip Roy

Keith Self

Greg Steube
Just the News reports:
"TOM EMMER has dropped out of the race for speaker," Punchbowl News's Jake Sherman posted on Tuesday afternoon. The Minnesota Republican does not appear to have publicly commented on the matter and reportedly left the conference meeting without saying a word.

"He just …… left. Said nothing," Sherman posted shortly before confirming Emmer's withdrawal.

His withdrawal makes him the third speaker designee to back out after Majority Leader Steve Scalise and Judiciary Chairman Jim Jordan both failed to unite the conference.

The lower chamber cannot return to normal business or address any legislation until the selection of a new speaker.
According to reports, House Republicans will have another Speaker candidate forum Tuesday night.
From CBS News:
Emmer's decision to drop out of the race a mere four hours after Republicans elected him as their nominee sends House Republicans back again to try to find a new nominee after three weeks without a permanent speaker.

House Republicans are holding another candidate forum Tuesday evening and gave the next round of candidates until 5:30 p.m. to declare their bids for the speakership.

Emmer won an election Tuesday against a large field of eight Republicans. Rep. Mike Johnson came in second place after several rounds of voting. Johnson tried to rally holdouts around Emmer without much success.