Gun owners rallied in Old Town Albuquerque to openly defy Democrat Governor Michelle Lujan Grisham's "emergency order" to temporarily suspend open and concealed carry laws in Albuquerque and throughout Bernalillo County for the next 30 days.
According to reports, police did not intervene to enforce the order.
WATCH:
VIDEO THREAD: Gun owners – many visibly armed – rallied in old Town Albuquerque today to openly defy the New Mexico Governor's Executive Order banning the open and concealed carry of firearms there as a one-month "emergency."

Police did not intervene or enforce the order. pic.twitter.com/BAk0kDZC9A

— Ford Fischer (@FordFischer) September 10, 2023
KOB reports:
More than a hundred people openly carried their guns in Old Town as they protested Gov. Michelle Lujan Grisham's recent controversial move on firearms.

"We're not here to cause any issues. We're just here to you know, express our amendment rights. And, you know, we'll go from there," said Derek J. a gun owner.

This was a rally against part of Lujan Grisham's public health emergency on gun violence. Specifically, the part where she banned carrying guns – either through open or concealed carry permits – in Bernalillo County and the City of Albuquerque for 30 days.

"No constitutional right, in my view, including my oath, is intended to be absolute. There are restrictions on free speech, there are restrictions on my freedoms," said Lujan Grisham Friday.

"My jaw dropped for a Second Amendment to be suspended. It's, it's unconstitutional, we gotta put it that way. A lot of people here feel the same way," said Derek.

Republican state Rep. Stephani Lord represents a district including Sandia Park. She was at the Old Town rally and is taking her anger a step further.

"So this is why I filed an impeachment, Representative John Block and I filed impeachment, which we plan to have done this week. And we plan on trying to push that through because she has done an illegal act and violated her oath," said Lord.
State representatives Stefani Lord (R-Sandia Park) and John Block (R-Alamogordo) called for Grisham's impeachment for violating her oath to uphold the people's inalienable rights.
State Lawmakers Call For Governor's Impeachment Following "Emergency" Order
"We made an oath, which is a promise that we swear that we're going to uphold the Constitution, the rights of New Mexicans, and she threw that right out the window," said Rep. Lord.
"I have a newsflash for the Governor: The Second Amendment is an absolute right, and so is my authority to impeach you for violating your oath to New Mexico and the United States," they wrote in a letter.
"The legislature has a duty to intervene when the government is overstepping its boundaries, and Governor Grisham's order and comments disqualify her from continuing her tenure as Governor," the letter added.
🚨PRESS RELEASE: @RepBlock & I are calling for the impeachment of @GovMLG. New Mexicans won't stand by as she disregards her oath to uphold our Constitution.

Read the full press release below! 👇 pic.twitter.com/r5kt9nOSvI

— Rep Stefani Lord (@Lord4NM) September 9, 2023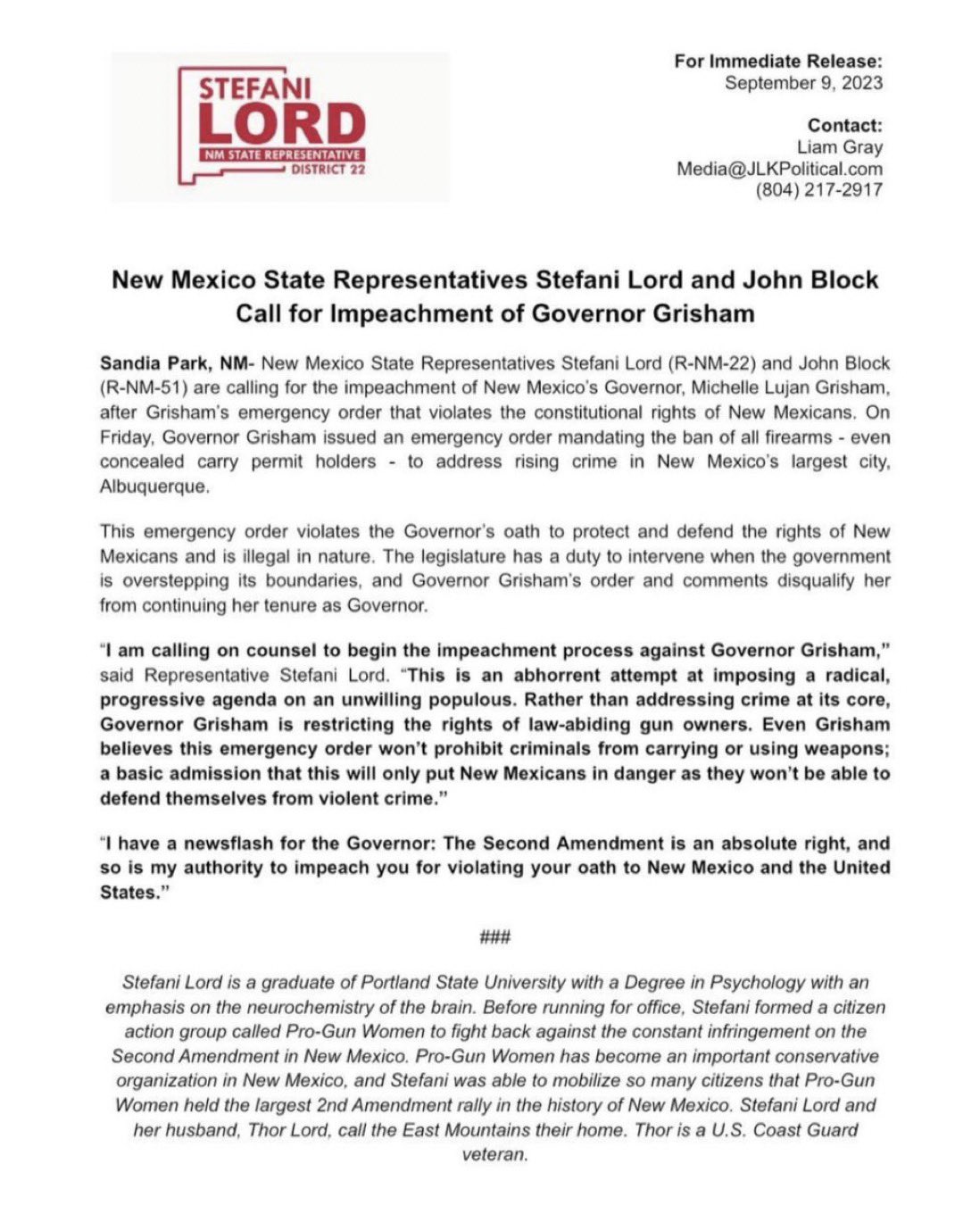 Albuquerque Journal also covered the rally:
Bob Hurtado had never attended a protest in his life until Sunday.

The former engineer decided to join the crowd gathered at Old Town Plaza because he felt Gov. Michelle Lujan Grisham's recent emergency order suspending the right to carry firearms in public in and around Albuquerque was targeting the wrong people.

"She's going after the wrong people," Hurtado said. "I pay my taxes, I'm a God-fearing American and I think we should have our Second Amendment rights. I'm here for that."

Hurtado has been conceal and carry licensed for four years and called the Governor's decision to suspend conceal and open carrying of firearms for 30-days a "mistake."

His opposition is just a small part of the strong reaction to the Governor's executive order since it was announced on Friday, with many at Sunday's rally calling it a direct attack on both the Constitution and their rights.

The majority of those in attendance were armed with a variety of firearms, displayed in the open.
Watch additional footage of the Old Town Albuquerque rally: