Oath Keepers founder, Elmer Stewart Rhodes III,  has agreed to waive his Fifth Amendment rights and is challenging the House January 6 Select Committee to let him testify LIVE and in person on a televised broadcast so he can pit the truth as he sees it; against the committee's "pack of lies."
Rhodes was arrested in January, a YEAR after the capitol incident, and is currently behind bars while awaiting trial on seditious conspiracy charges for his role in the events surrounding January 6. Rhodes already sat with investigators from the January 6 committee for more than six hours in February. He has pleaded not guilty in the case.
Rhodes is an army veteran (a paratrooper) and a Yale Law School graduate. He understands what our Founders intended for America and has served to defend it.
"Public televised testimony, that's the only condition," Rhodes said.
Rhodes has three stipulations to deliver testimony: that the panel broadcast the full testimony live, let him appear in person for the deposition in lieu of a remote appearance from his jail cell, and allow his counsel to be present, per Politico.
Trending: While "Fact-checkers" Play Defense For Obama… Here's The Truth About 30 Million Pages of His Regime's Records that Were "Trucked to Chicago"
If the panel accommodates those three requests, he is willing to waive his Fifth Amendment privileges, his lawyer said.
'Waive My Fifth Amendment Rights'
The panel's public hearing on July 12 is expected to focus on links between the Trump campaign and groups such as the Oath Keepers. However, Bright said he does not expect an agreement to be reached with the panel before the hearing on Tuesday.
"We will be connecting the dots, as people know," Rep. Zoe Lofgren (D-Calif.), a select committee member, told MSNBC on Thursday. "This wasn't just an event that unfolded. It was planned. Who did the planning, and who were they connected with? How did it unfold?"
Instead of "connecting the dots," why doesn't Liz Cheney (R-WY) and the January 6 Select committee will allow Rhodes to testify LIVE and unscripted on television? Unfortunately, Rhodes's unedited testimony likely will not meet their objective, as Paul Sperry tweeted below:
Liz Cheney admitted on CBS' "Face The Nation" what the January 6 Commission's real function is:
"I can tell you that the single most important thing is to ensure that Donald Trump is not the Republican nominee [in 2024]."
Liz Cheney admitted on CBS' "Face The Nation" what the Jan. 6 Commission's real function is:

"I can tell you that the single most important thing is to ensure that Donald Trump is not the Republican nominee [in 2024]."

— Paul Sperry (@PaulSperry30) July 11, 2022
Rhodes is not expecting them to accept his offer and stated:
"If they decline to accept my offer, I'm going to go ahead and publish my opening statement."
The Epoch Times conducted an exclusive interview with Rhodes on July 10. Read the transcript of the interview below:
"Public televised testimony, that's the only condition," Rhodes said.
"If I were given a chance to give an opening statement, I'm writing up what I would give them," Rhodes told The Epoch Times on July 10. "If they decline to accept my offer, I'm going to go ahead and publish my opening statement."
Rhodes said he does not expect the committee to accept his offer because his appearance would be a free-wheeling discussion, not a scripted presentation.
"They should jump at the opportunity, but they won't because they don't want that," he said. "What they want is what you've seen, which is just a scripted, controlled, pre-screened show trial. They're only going to put people in front of the public that they know are going to say what they want them to say."
"I want to push back," Rhodes said. "I want to cut back against this false narrative. They don't want the truth. That's why they won't let me just get up there, unscreened, uncoached, and just answer[ing] questions because they don't want the truth out.
"If they were concerned with the truth, the whole truth, and nothing but the truth, they would welcome the opportunity to talk to me because I pled the Fifth on everything from election time on back in February. I answered no questions about anything after election night."
'Waive My Fifth Amendment Rights'
The Select Committee next meets on July 12 in Washington D.C.
The panel might hold a prime-time hearing on July 14. It plans to cover the issue of domestic extremism and the roles allegedly played by the Oath Keepers and the Proud Boys on January 6, 2021.
Unlike his previous appearance before the committee, Rhodes said he would drop his Fifth Amendment right against self-incrimination and answer questions, but only if the hearing is on a live broadcast.
"So I'm going to do it now and waive my Fifth Amendment rights and do that in front of the public," Rhodes said in a call from the Alexandria City Detention Center in Virginia, where he is being held pending trial. He is charged with seditious conspiracy and conspiracy to obstruct an official proceeding, among other counts.
Rhodes was first charged in a superseding indictment on January 12, more than a year after the unrest at the Capitol. He, six other Oath Keepers, and one associate were charged in a new superseding indictment (pdf) on June 22.
Prosecutors say the Oath Keepers conspired to "oppose the lawful transfer of presidential power by force" by "breaching and attempting to take control of the Capitol grounds and building" to prevent, hinder or delay certification of Electoral College votes by a joint session of Congress.
Oath Keepers and their attorneys say the seditious conspiracy charge was concocted out of whole cloth by misreading and twisting messenger chats, phone calls, and online meetings. They say the Oath Keepers were in Washington D.C. that day to provide security for conservative VIPs speakers at events supporting President Donald Trump.
Their transportation of weapons to nearby Virginia was part of the group's preparations for what they believed could be the situation where the president invoked the Insurrection Act due to an Antifa attack on the White House, Rhodes said.
Incomplete Narratives
Rhodes said the committee has already shown deception when discussing the Oath Keepers. He pointed to a hearing when a still image of him was shown in a Washington, D.C., parking garage with former Proud Boys chairman Enrique Tarrio on January 5, 2021. Had the committee shown the full video of the event, it would have been clear that the so-called meeting between the men was a mere handshake with no discussion, Rhodes said.
"They showed a still photo of me talking to Enrique Tarrio instead of the video, which has me walking up and saying hello and walking away because it wasn't my meeting; it was somebody else's meeting," Rhodes said.
The video shows that the contact between Tarrio and Rhodes lasted less than 30 seconds, although it has been described in prosecution documents as a 30-minute meeting.
Rhodes said Tarrio was in the garage to speak with Bianca Gracia of Latinos for Trump and attorney Kellye SoRelle. They wanted to ensure he had legal representation after his arrest for setting fire to a Black Lives Matter banner in Washington D.C. in December 2020.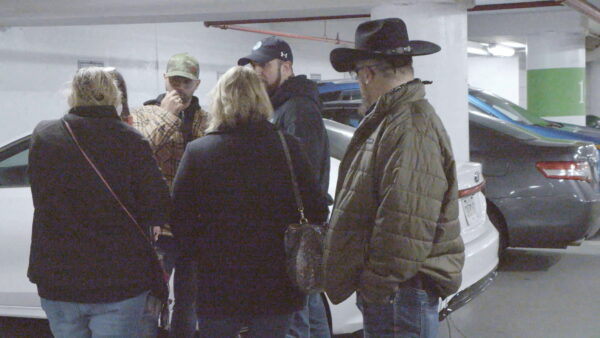 Enrique Tarrio, Chairman of the Proud Boys, and Stewart Rhodes, founder of the Oath Keepers, in a garage in Washington, in a still image taken from a January 5, 2021, video. (Saboteur Media/Handout via REUTERS)
Rhodes said he was part of SoRelle's three-man security detail. SoRelle, who also serves as general counsel for the Oath Keepers and Latinos for Trump, had received death threats, Rhodes said.
"It was their conversation, so I stepped down," Rhodes said. "I was there for security only for Kellye SoRelle."
Rhodes said part of his motivation to speak out publicly was the recent indictment of Michael Greene, a friend who ran security operations for the Oath Keepers in Washington, D.C., on January 6. Greene, 39, of Indianapolis, was charged with conspiracy to obstruct an official proceeding and three other counts.
According to FBI summaries of those meetings, Greene's interviews with FBI agents in May 2021 contradict many of the accusations against the Oath Keepers.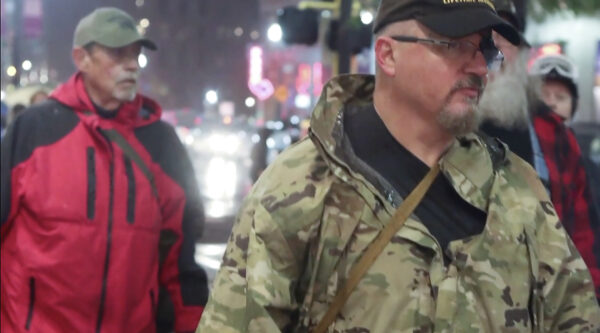 "He is a totally innocent man who was operations lead that day; a friend of mine, straight up, excellent, awesome Army veteran and ex-cop," Rhodes said. "A totally innocent man. They're just persecuting him."
Greene had every right to be at the Capitol on January 6 because the Oath Keepers were providing security for a "Stop the Steal" rally in Area 8 on the Capitol lawn and for a Latinos for Trump event two blocks away. Stop the Steal founder Ali Alexander had a permit for the Capitol rally and for the erection of a stage.
"He (Greene) was supposed to be on Capitol grounds. He's supposed to be right there in Area 8, which is on Capitol grounds," Rhodes said. "That's where he was supposed to be, to go and protect the venue that Ali Alexander had reserved there. So he was supposed to be on Capitol grounds. And now they're indicting him for trespass. It's just ridiculous."
Event Security, Not Conspiracy
Rhodes said the Oath Keepers presence in Washington D.C. that day was no different than for what they had done for pro-Trump rallies in November and December 2020.
"Our guys dressed the same and did the same thing," he said. "The difference is that two of our team leaders decided to take their people inside the Capitol of their own volition. That's the only difference. Their behavior and ambition was the same, to protect people at events in Washington D.C., which they did."
Oath Keepers provided security in the VIP area at the Ellipse where Trump spoke on January 6. They were then tasked with escorting Alexander and speakers, including Roger Stone, from the Ellipse to the Capitol for an event that was on the calendar well before the president's speech was booked, Rhodes said.
Two groups of Oath Keepers did enter the Capitol.
Prosecutors claim they were searching for House Speaker Nancy Pelosi. Rhodes said there was no plan for anyone to go into the Capitol. One of the groups intervened between an armed U.S. Capitol Police officer and an angry crowd, de-escalating the situation, he said.
Rhodes ridiculed the charge by prosecutors that the Oath Keepers used a military "stack formation" to ascend the east steps of the Capitol. Oath Keepers have been shown on video walking with hands on each other's shoulders in a line.
"That formation going up the steps is not a military formation. I was an infantry man, airborne infantry," Rhodes said. "That's not a military formation. That's a PSD (personal security detail) technique to get through a crowd."
The Oath Keepers have used the technique at other crowded venues to move their protectees through masses of people, he said, including an event in Atlanta in 2020.
"They use the loaded term of 'military stack.' No, it's a PSD detail. You don't go through a crowd like that if you're in the military."
Preparations Were for Antifa, Not to 'Attack the Capitol'
The Oath Keepers did have weapons and ammunition stockpiled in Virginia and had "Quick Reaction Forces" (QRF) on standby. Prosecutors claim the QRFs were to attack the Capitol. Rhodes said the Oath Keepers in the QRFs were available to extract other Oath Keepers or protectees from Washington if there was a large attack by Antifa.
The weapons were there only if Trump invoked the Insurrection Act and called up militias to defend the White House, Rhodes said. Antifa had made threats to assault the White House and eject Trump by force, he said.
"We're gonna have well-trained Oath Keeper combat vets with their weapons outside D.C. but ready in case the President invokes the Insurrection Act and calls us up as the militia, which completely lawful," Rhodes said.
Plea Deals and Coercion
The three Oath Keepers who took plea deals and are cooperating with prosecutors were coerced with threats of long prison sentences, he said.
A letter sent to defendants and their attorneys in May by prosecutors Kathryn Rakoczy and Justin Sher said that if Oath Keepers defendants are convicted at trial, they could face life in prison under sentencing guidelines related to terrorism. A copy of the letter was obtained by The Epoch Times. The letter also set the deadline for accepting plea-agreement offers.
Noted defense attorney and Harvard law professor emeritus Alan Dershowitz said the attempt to link seditious conspiracy to sentencing guidelines for treason "is absurd."
Rhodes said in at least one of the three plea deals, the defendant had told family members he was terrified of the prospect of life in prison. The seditious conspiracy charge includes a maximum prison sentence of 20 years.
"They scared the [expletive] out of these guys and coerced them into pleading for something they didn't do," Rhodes said. "There's no [expletive] conspiracy. Did he go into the Capitol? Yes, like a dumb ass, he went into the Capitol. But there was no conspiracy."
Rhodes said the Select Committee is making it nearly impossible for any of the Oath Keepers to get a fair trial. Recently U.S. District Judge Amit Mehta rejected a motion by Oath Keepers defendants to move their trials from D.C. to Virginia.
"The only way we can get any possibility of a fair trial in this country is if we are out of D.C.," Rhodes said. "I think it's a foregone conclusion.
"A D.C. jury is going to vote along political lines," he said. "We walk in there, we've got horns, demon tails, already, the 'evil Oath Keepers.' They've been conditioned over 13 years in the leftist media to hate us. And these are all inside-the-beltway Democrats."
Overtly Anti-Racist
Rhodes said he would like to address what he called the defamatory smear of the Oath Keepers by Select Committee Chairman Rep. Bennie Thompson (D-Miss.), who called the group "white supremacists." Rhodes said that the Oath Keepers' rules ban any racial discrimination and that he does not tolerate such attitudes in the group.
On January 6, 2021, the Oath Keepers vice president was a black police officer, he said. Greene, the former police officer who ran Oath Keepers security in D.C. on January 6, is also black.
"We're overtly anti-racist, and they have to know that. They've defamed us on purpose," Rhodes said. "So since that moment on, there has just been a relentless campaign of defamation, mischaracterization of Oath Keepers—even demonization."
Rhodes said that he believes the Select Committee's true goal is to see former President Trump indicted for January 6. The committee and the Department of Justice will work on that goal together, he said.
"They work hand in glove-like two different fingers on the same iron fist," he said.
The January 6 hearings continue to roll on as Democrats continue persecuting conservatives related to the January 6 probe. Do Americans really care? The honest answer is no, as indicated by the low TV ratings. Americans' main concerns are inflation or increasing costs, rapidly growing crime and violence, the crisis at our borders, etc., which are all pushed aside as the Democrats continue to focus on January 6. At what costs to Americans?
Even CNN data analyst Harry Enten concluded Monday the January 6 House select committee hearings had not moved the needle in favor of Democrats as inflation is the issue that most concerns Americans before the midterms.
Enten cited recent polling from Quinnipiac University. He told CNN's audience Americans are more concerned about their finances than whether or not former President Donald Trump committed a crime to stay in office.