X, formerly known as Twitter, will soon collect users' "biometric information" and "employment history" for premium users paying a monthly subscription.
The platform updated its privacy policy, which goes into effect September 29th, to include disclosures about its plan to collect biometric data and personal information.
"Based on your consent, we may collect and use your biometric information for safety, security and identification purposes," the privacy policy reads.
🚨 Elon Musk's X To Collect 'Biometric Information,' Job History In Privacy Policy Update… https://t.co/vdt0ICWic0

— Spiro (@Spiro_Ghost) August 31, 2023
"It doesn't include any details on what kind of biometric information this includes — or how X plans to collect it — but it typically involves fingerprints, iris patterns, or facial features," The Verge writes.
"We may collect and use your personal information (such as your employment history, educational history, employment preferences, skills and abilities, job search activity and engagement, and so on) to recommend potential jobs for you, to share with potential employers when you apply for a job, to enable employers to find potential candidates, and to show you more relevant advertising," the privacy policy states.
The Verge reports:
X Corp. was named in a proposed class action lawsuit in July over claims that its data collection violates the Illinois Biometric Information Privacy Act. The lawsuit alleges that X "has not adequately informed individuals" that it "collects and/or stores their biometric identifiers in every photograph containing a face" that's uploaded to the platform.

One possibility for using biometric data is enabling passwordless sign-ins. According to findings from app developer Steve Moser, X plans on rolling out support for passkeys, which can use your device's fingerprint, facial recognition, or PIN to log in to your account. However, the FIDO Alliance — a nonprofit organization that advocates for the use of passkeys — says biometric data and processing "continues to stay on the device and is never sent to any remote server."
The current X privacy policy doesn't mention the collection of biometric data or information related to employment history, The Verge noted.
NEWS: X has updated its privacy policy to specify that X may collect biometric data (eg face, eyes and fingerprints).

This is likely tied to efforts to improve security and ID verification.

It also changed to note that X may use employment history etc for @XHiring job search. pic.twitter.com/Vxw23yThIF

— X News Daily (@xDaily) August 31, 2023
The New York Post reports:
When reached for comment, an X spokesperson said the reference to biometric information is related to a feature intended for "premium users."

At present, X only provides "verified" blue checkmarks to premium subscribers. Musk faced criticism earlier this year for revoking existing verification status from unpaid users.

"X will give the option to provide their Government ID, combined with a selfie, to add a verification layer," the X spokesperson said in a statement. "Biometric data may be extracted from both the Gov ID and the selfie image for matching purposes. This will additionally help us tie, for those that choose, an account to a real person by processing their Government issued ID. This will also help X fight impersonation attempts and make the platform more secure."

Musk has pledged to eliminate bots from his social media platform ever since he acquired Twitter for $44 billion last year. However, the billionaire has also been sharply critical of the privacy practices of his rival Meta – and took a dig at Threads' data collection disclosures when the rival app launched in July.
Bloomberg Television reports:
100 Percent Fed Up questioned earlier this month if X would lead us into the digital ID slavery system.
From our prior report:
X, formerly known as Twitter, is developing a method for users to verify their identity, reports indicate.

The ID verification process includes submitting a selfie and uploading a government-issued ID.

App researcher Nima Owji first uncovered the unreleased X feature and shared a screenshot of the ID verification process.

"X keeps working on the ID verification. You should upload a photo of your ID and take a live selfie," Owji wrote.

"I consent to X sharing images of my ID, including biometric data, and personal data from my profile with Au10tix for the purpose of confirming my identity. I also consent to X storing my ID images, including biometric data, for up to 30 days and using it and data from my profile for the purposes of safety and security, including preventing impersonation," the screenshot read.
#X keeps working on the ID verification. You should upload a photo of your ID and take a live selfie. https://t.co/3bdGgzlnZh pic.twitter.com/F4ssglakHR

— Nima Owji (@nima_owji) August 16, 2023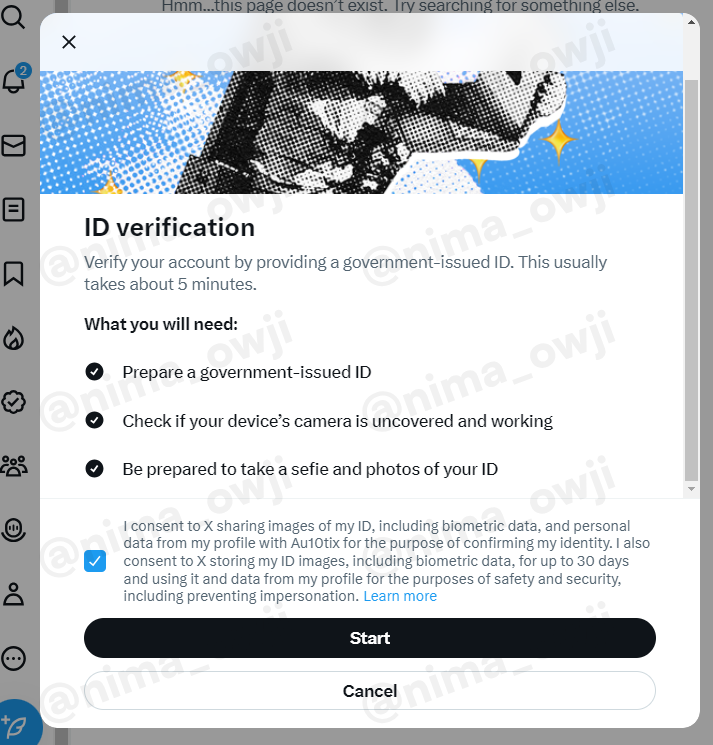 "Owji, who often uncovers unreleased features in X, first spotted an 'ID verified' badge on Musk's profile earlier this month. Now, he's discovered an in-app message detailing how it works, suggesting that it may be getting closer to an official launch," Engadget reports.

By submitting to the ID verification process, X users consent to allowing the platform to share their personal data, government-issued ID, and biometrics with a third-party "identity intelligence" company.
Read X's updated privacy policy HERE.